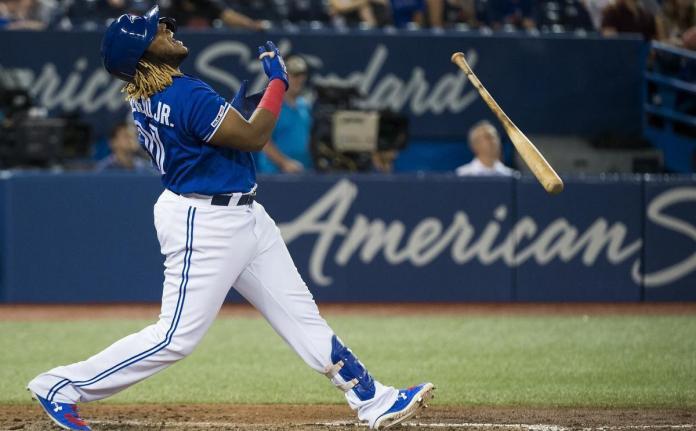 An underreported aspect of the road from gutting rebuild to contention is the bridge. This is the time from when a team is terrible, intends to be terrible, knows it's terrible and the results are terrible to when their keeper prospects are beginning to show their talent and marked improvement is clear. Even if the win-loss column and place in the standings is only slightly better, if at all.
At that point, surprisingly aggressive and costly additions will be made to take the next incremental step. Two teams that have determined they are in the bridge portion of their rebuilds are the Toronto Blue Jays and Chicago White Sox.
As they get closer to legitimate contention, it is valuable to assess which team is ahead of the other.
Toronto Blue Jays
When Mark Shapiro was hired away from the Cleveland Indians to take over as team president after the 2015 season, he allowed the team built by Alex Anthopoulos to run its course despite his preference to maintain a cost-controlled and flexible club, eschewing Anthopoulos' strategy to make massive trades for stars Josh Donaldson, David Price, Troy Tulowitzki and R.A. Dickey to add to Jose Bautista and Edwin Encarnacion.
Once Anthopoulos was gone, Shapiro let the existing template stay in place for one more year and set about gutting it to build a team that suits his aesthetic – the one he was so successful with in Cleveland. By 2019, Shapiro and general manager Ross Atkins' blueprint began to bear fruit with Vladmir Guerrero Jr., Cavan Biggio and Bo Bichette reaching the majors and establishing themselves as future linchpins. Trading away Marcus Stroman yielded Anthony Kay, who is close to Major League-ready.
The pieces are in place for a relatively expedient move into moderate contention. Thus far, Shapiro has stuck to the script without going overboard. The signing of Hyun-Jin Ryu for four-years at $80 million is, at first glance, an overpay. For context, Ryu is being paid more than Madison Bumgarner. The Dodgers were skillful in protecting and cocooning him. Once he's out of Los Angeles and in a different environment, that signing could end up biting the Blue Jays.
Still, he didn't cost them a draft pick and it sent a message that the Blue Jays are willing to spend and even overspend for a prominent free agent. Their estimated payroll is sufficiently reduced and they will have money to spend when the time comes to go for it.
That time is not now. In the American League East, the New York Yankees are a powerhouse; the Boston Red Sox, despite their ongoing retooling, have playoff-caliber talent; and the Tampa Bay Rays won 96 games in 2019 and shook the eventual pennant-winning Houston Astros in the Division Series.
However, they're no longer a pushover nor are they looking to clear onerous, inherited contracts that were in place when the new regime took charge.
Chicago White Sox
To be blunt, general manager Rick Hahn's hardest job was convincing owner Jerry Reinsdorf and executive vice-president Ken Williams to abandon the years of fruitless patchwork and accept that a full-blown rebuild was necessary. They had been awful for years with Chris Sale as the headlining star. The farm system was barren, the payroll was bloated, the clubhouse was toxic, and there was little hope that anything would change anytime soon. So, they gutted it.
As for the return on the trades, it does not diminish the positive outcomes of getting Yoan Moncada, Eloy Jimenez, Dylan Cease and Lucas Giolito for their name players to say that it's not the most difficult job in the world to scour a trade partner's prospects and acquire them for the likes of Sale, Adam Eaton and Jose Quintana.
The rebuild seems to have gone on longer than it really has because the team was so catastrophically bad in the four years prior to them capitulating and trading Sale, Eaton and Quintana. It only started in full in 2017. So, three years in, it's been in-progress for the exact same amount of time as the Blue Jays'.
The White Sox have been more aggressive than the Blue Jays in the past two seasons. One year ago, they made noise about pursuing Bryce Harper and Manny Machado, but got neither. This offseason, they have made notable signings of Yasmani Grandal (four-years, $73 million), Dallas Keuchel (three-years, $55.5 million) and Edwin Encarnacion (one-year, $12 million).
Grandal might have appeared to be overkill after James McCann's breakout season, but it was a coldblooded and likely accurate assessment to trust McCann's career history as a defense-first backstop who had occasional pop and was a good clubhouse presence. If nothing else, he can catch 40 games to keep Grandal fresh as a designated hitter or he is decent trade bait at a relatively low cost ($5.4 million) before he is a free agent after 2020. Encarnacion is a pure slugger and solid voice in the clubhouse.
Retaining Jose Abreu, trading for the talented and underachieving Nomar Mazara, trusting the rise of Tim Anderson – all are acceptable moves as a means to an end of achieving their goal. Like the Blue Jays, they will have money to spend once the team is ready to go for it.
Who's ahead?
In terms of talent level, the Blue Jays have the deeper every day player prospect foundation. While Moncada has MVP-potential, so does Guerrero. Bichette and Biggio are, at minimum, solid cogs for a contending team – exactly the type of low-risk players who have lower ceilings than the Moncada-type, but also a higher floor.
That may be the key: the philosophy. Shapiro hedges while Hahn – likely pushed by Williams – rolls the dice. The difference between the two front offices is that Shapiro has a documented history of tearing his club down only to build it back up. He did it twice in Cleveland and is adhering to the same structure in Toronto. The Blue Jays signing Ryu was costlier and a bigger gamble than the White Sox signing Keuchel; Grandal adds another layer of offense and defense with his pitch-framing skills.
The divisions are relevant here as well. While the Blue Jays are stuck in a very difficult AL East, the White Sox have two teams in the American League Central – the Kansas City Royals and Detroit Tigers – who lost 100+ games in 2019 and have done little to improve, granting divisional foes some relatively easy wins the Blue Jays will not have access to. The Indians are retooling; the Minnesota Twins won 101 games largely due to the awfulness of the Tigers, Royals and the general badness of the White Sox. They have done nothing to improve.
The division, while not open, is one in which the White Sox can compete if their young players continue to improve and Keuchel, Grandal and Encarnacion maintain their usual standard of production.
Based on the idea of a rebuild being to get to a position where the playoffs are a possibility, circumstances put the White Sox slightly ahead.