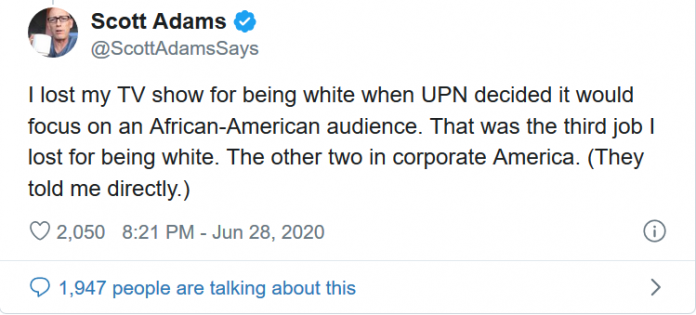 Scott Adams, creator of the critically acclaimed Dilbert comic strip is claiming racism is the real reason why the animated television series version of his world-famous comic strip was canceled.
Here's the thing, Scott: we don't believe you.

Here's another thing, Scott: black people read the newspaper. Black people liked Dilbert. Black people didn't try to take anything from you, we had always been among your audience. Until you became openly racist.

— let's go Ayo (@letsgoayo) June 29, 2020
One could say Adams was being sarcastic but in 2016 he responded to a question on Quora about why the Dilbert animated series wasn't successful and Adams claimed there were three main drivers of the cancellation.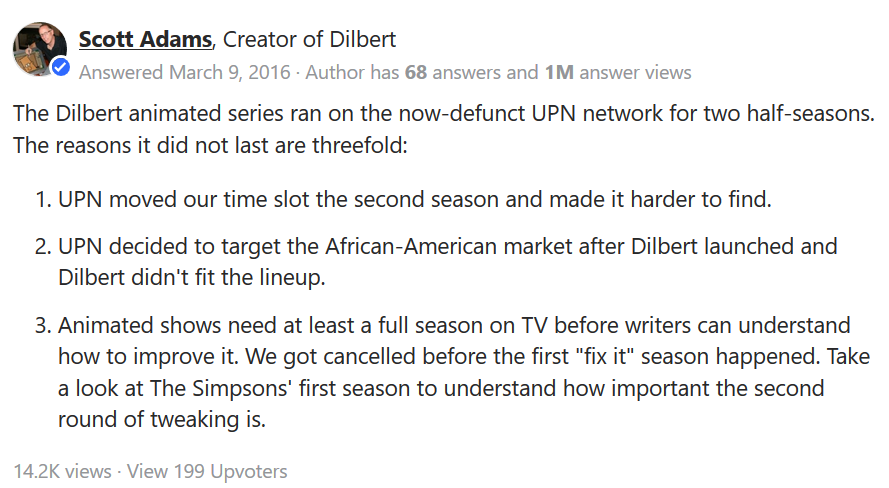 Many Twitter users believe Adams was just being outright racist for his comment.
In other news. The creator of Dilbert is blaming black people for his show being canceled.

Then I looked through is timeline and realized this man went full MAGA. https://t.co/cQJ6NXOYge

— Swordsfall – Rise of Nubia Available Now! (@Swordsfall1) June 29, 2020
Other users quickly pointed out that the Dilbert animated series was not a highly rated show for UPN and claimed Adams is showcasing his own white privilege by claiming it was canceled for reasons not related to the actual ratings of the show itself.
White privilege is having the season's second lowest-rated show in ALL of television and saying it got canceled because you're white.

Poor Dilbert. pic.twitter.com/WkpakJqNjJ

— Nick Jack Pappas (@Pappiness) June 29, 2020
It's worth noting that UPN premiered eight new shows during the 2000-2001 season and only one of them starred black actors. Two of the five shows that were canceled along with Dilbert did, in fact, star black actors so it puts the narrative of UPN wanting to "focus on an African-American audience" in question at the very least.