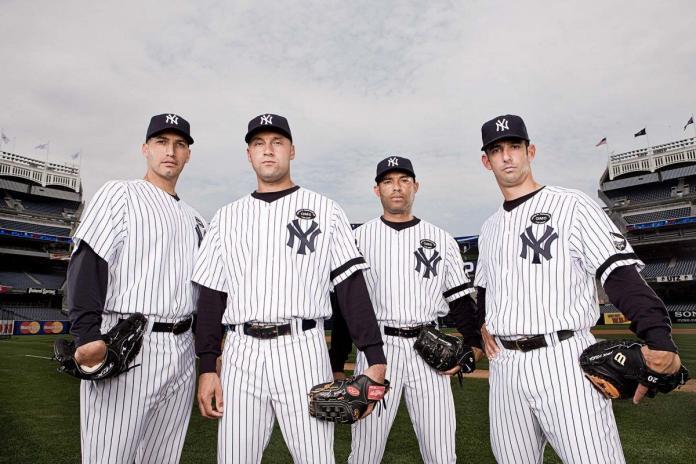 The New York Yankees' "Core Four" of Derek Jeter, Mariano Rivera, Andy Pettitte and Jorge Posada ("Core Five" if Bernie Williams is added, as he should be) is not simply the foundation of their 1996 to 2000 dynasty in which they won four World Series in five years, but it is a selling point for keepsakes, memorabilia and bragging rights. It's not as if they needed the help, but pushing dynasties from 1923 to 1978 gets increasingly difficult as the living witnesses age. The constant refrain of "27 rings" or, in Bronx parlance, "twenny-seven ringz" complete with the cigars and finger waving is harder to take seriously when those doing the gloating are so young that their grandparents were the ones around to see the latter stages of the five-decade dynasty.
The latter run is fresher. Since the organization developed those players and schooled them in the fundamentals of winning championships, there have been continuous attempts to recreate – and resell – what was built from the dark years of 1989 onward. Most of those attempts have failed. Currently, the Yankees are essentially constructed around homegrown talent in Aaron Judge, Gary Sanchez and Luis Severino along with youth acquired from other organizations in Gleyber Torres. Still, that new core has come close, but failed to deliver the expected and demanded championship as the 1990s group did relatively early in its tenure.
Parallels are easy, but the landscape is vastly different now to what it was then. Understandably, it is impossible to compare the environment of the 1990s to 2020 just as it was impossible to compare the 1970s to the 1950s. It was that failure to adapt that led to the Yankees' downfall from the mid-1960s to the mid-1970s. Although general manager Brian Cashman has done a tremendous job in rebuilding on the fly without the team sinking to the depths of 100 losses, there is undoubtedly the residue of the lack of patience and familiar Yankees elitism that is negatively impacting certain young players who might otherwise be major contributors to a team. The club is not adhering to several key lessons of that era while still trying to promulgate that myth of the Core Four/Five as evidenced by its treatment of Clint Frazier and Miguel Andujar.
Combining the demands to win immediately and get results now with the systemic changes to how players are developed and how the decision-making process has been centralized with the front office has largely sabotaged the blueprint the club used under Buck Showalter and Joe Torre in the 1990s. During that time, the Yankees benefited from George Steinbrenner's suspension preventing him from repeating the same mistakes that led to the lost decade of the 1980s and the decline to the depths of embarrassment and mockery.
To their credit, Gene Michael and Showalter rebuild correctly and created the monster that decimated Major League Baseball for those four titles with Torre at the helm.
Regardless, there is a perception that the Core Four/Five automatically landed and was ready for prime time. That is not the case and had the Yankees treated those players as they are treating Miguel Andujar and Clint Frazier and treated Greg Bird and Chance Adams among others, there might not have been a Core Four/Five, let alone a dynasty.
Andujar was recently demoted after a slow start in returning from injury. Frazier has been at the alternate site for the duration of the young season. There are differences in the reasoning, but the result remains the same: there is no room for either on the current roster and they are unwilling to give either the chance to grow and recover making it preferable that they be moved out of town.
This is not to suggest that the Yankees were unjustified in demoting Andujar. Returning from a torn labrum and struggling at the plate, it was unfair to him and the rest of the team to keep putting him in the lineup when he's not producing. Adding in that he does not have a defensive position and his lack of offensive production does not allow him to be the designated hitter and they had little choice.
The problem with Andujar is that they have put him into the same category as Bird. They expected him to develop into more than what he is, refusing to acknowledge his flaws and that perhaps he would be better off as a trade chip to fill other needs when he was at the height of his value. Now, they will get very little for him in a trade putting them in a box of moving him at a low point or retaining him when there's nowhere for him to play. With Bird, they ended up losing him for nothing. That Bird, now with the Texas Rangers, is back on the injured list is secondary to the Yankees' inertia on the topic. They refused to trade him and then refused to give him the time to get healthy and develop as they expected. Now they're as frozen in place with Frazier and Andujar.
Frazier is a different story altogether and it's clear that if he ever reaches his potential, it will not be in pinstripes. Since his arrival, he has rubbed veterans and the front office the wrong way. By now, it's blatant that there are issues beyond his on-field play. If there was any doubt about how far Frazier has fallen in the organization's eyes, Giancarlo Stanton's latest injury resulted in them recalling Thairo Estrada instead of Frazier.
Speculation can center on multiple reasons for Frazier's downfall. It's a fine line to walk when a young player is vocal, especially with a club as staid and fussy as the Yankees. From his long flowing red hair, refusal to shave until he was forced to do so, and his un-Yankee-like swagger, he got off to the wrong start. As time passed, he squawked when he felt he was being mistreated, opened his mouth when he was told openly or covertly to shut it, and refused to conform. That is not going to work with the Yankees.
The Yankees' 1990s reconstruction did not go as easily as it is portrayed. While Jeter becoming an All-Star and clubhouse force was instant, the others took some time to develop and, had they been treated as the Yankees are treating Frazier and Andujar, might not have succeeded in New York.
In 1995, Pettitte was an extra arm who made the team as a reliever and got a chance to start out of necessity. Williams was bullied by the veteran players and struggled on and off the field; he did not hit his stride until three years into his big league career after having been nursed by Showalter.
Posada sat behind Joe Girardi, shared time with him, had tension with him that extended throughout their relationship as teammates and then as coach-player and manager-player, and was not handed the reins as everyday catcher until he'd been in the majors to stay for four years.
Rivera blossomed into a star when Torre stumbled on the 1996 formula of six innings from his starter, two innings from Rivera and one inning from John Wetteland, but early in the season, Rivera was mopping up with the likes of Bob Wickman, Steve Howe and Mark Hutton among others getting those critical innings ahead of closer Wetteland. Rivera was nearly traded for Felix Fermin in the spring of 1996 because Steinbrenner did not trust young players and had veteran members of his "crack baseball committee" telling him that Jeter was not ready.
Even though they're using advanced metrics to justify it, the current Yankees method of doing business is closer to the panicky Steinbrenner era than it is to the Showalter/Torre era of letting the youngsters play, accepting their struggles and inconsistencies as a necessary part of their maturation process, and blunting factions who wanted to repeat the same mistakes of the 1980s by mortgaging the future for over-the-hill veterans (see Doug Drabek and Brian Fisher for Rick Rhoden).
The chain of command is vastly different now to what it was then. Back then, Showalter and Torre were given leeway that Aaron Boone is not. Even Girardi, who was somewhat constrained in what he could and could not do, had exponentially greater freedom than Boone. It was Girardi's attempts to discipline Sanchez that was a major factor in his ouster. Boone's softer style with the mercurial catcher has been up and down.
With the unquestioned power in Cashman's hands, there is little room for debate other than listening to the various voices with the GM making the final decision. This is preferred today in general, but may not be optimal for all situations. Had that been the case in the 1990s, would the Core Four/Five even be discussed now? Or would there have been regret and lamentations of what might have been had the Yankees done what they're doing with some of their young talent now?
The background is different to be sure, but that doesn't eliminate the value of patience – something the club is not showing with talented players who will not be with the organization for much longer.