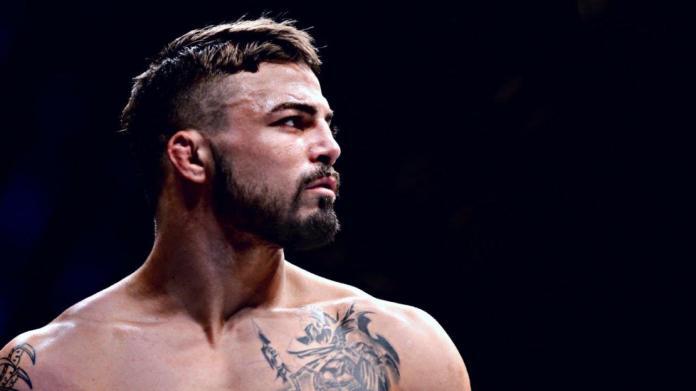 The last time UFC welterweight fighter 'Platinum' Mike Perry fought wasn't when he beat fellow welterweight Mickey Gall in a decisive unanimous decision at UFC Fight Night in Austin on June 27. No, the last time Perry threw a punch was last night when he hit an older man and knocked him out with one punch.
The reason for the altercation?
Perry was asked to leave Table 82, a bar in Lubbock, TX and then completely lost his cool because he thought someone had touched him. The physical contact Perry seemed to be referencing and deeply disturbed by appeared to be a person who softly placed a hand on Perry's right shoulder area and quickly removed it. It took nearly 12 full seconds for Perry to mention being touched and seemed more concerned about patrons and staff calling the cops on him, but ultimately went into a rage over being touched at all.
Just before Perry assaulted the older man you can hear Perry tell him he'd knock him out and then the older man responding with, "why don't you do it motherfucker," before the man appeared to lunge at Perry and Perry connecting with a devastating right to his head.
Here's the full video posted by Twitter user @MMAEejit.
Mike Perry in a bar fight last night over someone "touching him".

This is pretty disgusting behaviour from a UFC calibre fighter. Acting like a complete child. pic.twitter.com/ZAuxZTtXtW

— MMA Eejit 🇮🇪 (@MMAEejit) July 8, 2020
TMZ Sports reported that Perry also struck a woman who witnesses said was a friend of Perry's girlfriend. It was unclear whether the woman was injured or whether charges would be filed.
Former UFC welterweight Ben Askren took to Twitter to say he wasn't exactly surprised in Perry's behavior.
As bad as that was cant say it was unexpected, dude is a loose cannon. https://t.co/wzaTDaUsuH

— Troll Smasher (@Benaskren) July 9, 2020
Perry has had numerous run-ins with law enforcement and has even spent time in jail previously.
He reportedly spent nearly six months in a Florida jail for a probation violation. He was on probation for a burglary charge in 2014 when he violated the terms with a battery arrest. In 2013, he also pleaded no contest to a battery charge.
Regardless of whether charges are filed against Perry and he's arrested, Dana White is unlikely to let this incident slide and will likely hand down some sort of punishment for the fighter. With all that said and the details emerging of this latest incident for Perry, it's very likely needs to seek professional help to work through his anger management and self-destructive behavior issues before he's unable to come back or 'redeem' himself for such ugly behavior.