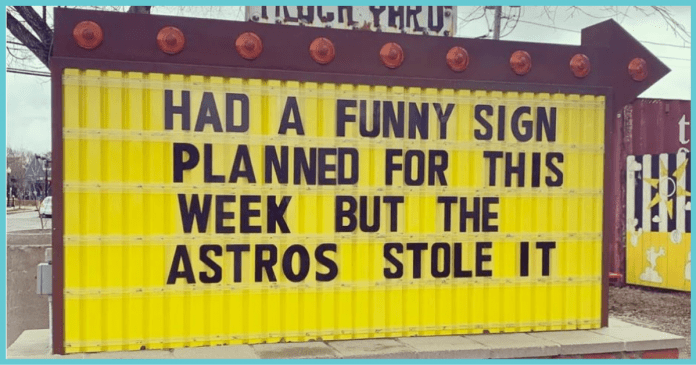 Grading Major League Baseball off-seasons is always subjective whether a team is judged as having had a "good" winter or a "bad" winter. This off-season has been unusual in that many teams have had off-field issues ruin their blueprint. A previous post graded the three "best" off-seasons. Following are the three worst.
Houston Astros
The Astros sought to be the most innovative team in MLB, but it's doubtful they intended to take damage control and turn it into damage escalation. With the continuing fallout from the sign-stealing scandal, they're doing just that.
"Fluid" does not adequately describe this geometrically worsening morass. The latest (for now) is the spring training press conference in which owner Jim Crane and the players offered more explanations and contrition. For his part, Crane offered a hesitant, contradictory series of statements and stumbled through his answers to reporters' questions.
Alex Bregman, Jose Altuve, Carlos Correa and George Springer offered apologies and denied that the team used buzzers to signal hitters about the pitches that were coming. This comes on the heels of former manager A.J. Hinch following up his interview with MLB Network's Tom Verducci in which he gave sketchy, non-denial denials about the buzzers and appearing to do nothing more than dig a deeper hole.
Since October, the Astros have fired the architect of their rebuild, general manager Jeff Luhnow. They fired manager Hinch. They fired Luhnow's right-hand man Brandon Taubman.
Even with all that contributing to their presence at the top of the list of teams that had the worst off-seasons, if the entire management hierarchy from top to bottom had remained in place, the players they lost and that they failed to adequately replace them might still put them on this list.
A top-five starting pitcher in baseball, Gerrit Cole, departed via free agency. He signed with one of their main rivals for American League supremacy, the New York Yankees. They did not replace him.
They lost their primary catcher from 2020, Robinson Chirinos.
They lost one of their best relief pitchers, Will Harris.
The lost another useful reliever, Hector Rondon.
For additions and retentions, they kept reliever Joe Smith and catcher Martin Maldonado and did nothing else.
Reigning American League Cy Young Award winner Justin Verlander is still top-level, but will be 37 on Feb. 20. Zack Greinke is 36. They are placing immense trust in Lance McCullers Jr. as he returns from Tommy John surgery.
New manager Dusty Baker will generate good will and his teams generally maximize their talent in the regular season, but the question as to whether their talent level remains good enough to defend their AL pennant is a reasonable one. There's a perception that the Astros are so strong that they should overcome the rest of baseball gunning for them with a vengeance. Except they severely cut into their farm system in trades to try and win titles; they lost key components; and they have not addressed their issues.
The sign-stealing vitriol is not going away and they still insist they have the same talent level as they have in the past three years. Except they don't. Saying "we're still championship caliber" is not a solution, especially when it's said in a tone implying they're trying to convince themselves as much as they're trying to convince everyone else.
Boston Red Sox
The Red Sox were also damaged by the sign-stealing scandal. Manager Alex Cora, who was the Astros bench coach in 2017, was fired amid allegations that the Red Sox were also using technology to steal signs during their 2018 championship run.
This came on the heels of president of baseball operations Dave Dombrowski's firing and the club's mandate (though owner John Henry says it's not a mandate) to get payroll under control. New chief baseball officer Chaim Bloom's background is in sabermetrics and helping his former employer, the Tampa Bay Rays, compete while facing draconian payroll limitations and the lowest attendance in the American League. He was not hired to mimic Dombrowski.
Without the off-field drama, the on-field problems are stark. Had they kept Dombrowski and allowed him to run the club by spending to fill holes; retained Mookie Betts and David Price; and addressed the bullpen, they might not have been as strong as the Yankees on paper, but they could have competed with them. After their historic 2018 season, 2019 could have been classified as a championship hangover. The talent was still on the roster. Now, however, it is not. Add in that the heart and soul of the team, second baseman Dustin Pedroia, may never play again because of lingering injuries and the team is transitioning in myriad ways.
Their managerial search has stoked more mocking as they named veteran baseball man and former Milwaukee Brewers manager Ron Roenicke the interim manager. What that means is anyone's guess. Speculation has been that they intend to rehire Cora when the investigation is complete even if he is suspended. That is the only logical explanation for the interim label being attached to Roenicke. It's a hard sell given the ongoing revelations of the Astros' behavior when Cora was there and how the Red Sox allegedly stole signs of their own under Cora.
They still have a respectable core with Chris Sale, Xander Bogaerts, Rafael Devers, Andrew Bienintendi, J.D. Martinez and Nate Eovaldi. Top prospect Michael Chavis is on the rise. Alex Verdugo is a talent. Still, they have not gotten better. They have gotten worse. This while the Yankees and Rays have gotten better.
The front office is new; the rotation is weak; the bullpen is shaky; the offense is downgraded; the on-field staff is in flux; and they look like a .500 team in a difficult division. That's a precipitous fall from two years ago when they won 108 games and blasted through the postseason with a dominating, historic season.
Chicago Cubs
Unlike the Astros and Red Sox, the Cubs' controversies were relatively muted and mostly left to on-field considerations.
Sure, there was the Kris Bryant grievance about the club undeservedly sending him to the minors so they could have an extra year of team control. The decision came in favor of the Cubs and they are receiving trade inquiries on Bryant.
They also moved on from veteran manager Joe Maddon in favor of former Cubs backup catcher David Ross. The relationship between president of baseball operations Theo Epstein and Maddon was a prevailing storyline with public disagreements played out in real time. Despite Epstein and Maddon making assertions to the contrary, they could no longer coexist. Ross is more to Epstein's taste of someone who will follow orders, will work cheaply for the opportunity and is expected to have a better rapport with the players than Maddon did.
When they won their World Series in 2016, the Cubs were projected as a potential dynasty. They lost in the National League Championship Series in 2017; were bounced in the Wild Card Game after blowing the National League Central in 2018; then missed the playoffs entirely in 2019 with a mediocre 84-78 record. High-profile free agent signings Yu Darvish and Craig Kimbrel have been disappointing and terrible, respectively. Owner Tom Ricketts has closed the vault after Epstein's very public missteps in big name, big money acquisitions.
The Cubs are relying on the change from Maddon to Ross and improved performance from the veterans on the roster to get them back into legitimate playoff contention. Since the core of the team's offense is still in its 20s and the veteran starting pitchers and Kimbrel have the track records they do, it's certainly possible that the Cubs rebound in a winnable National League Central.
That said, they're relying on these arbitrary factors and hoping everything goes right after so many things have gone wrong since that World Series win. All in all, that equates to a bad off-season