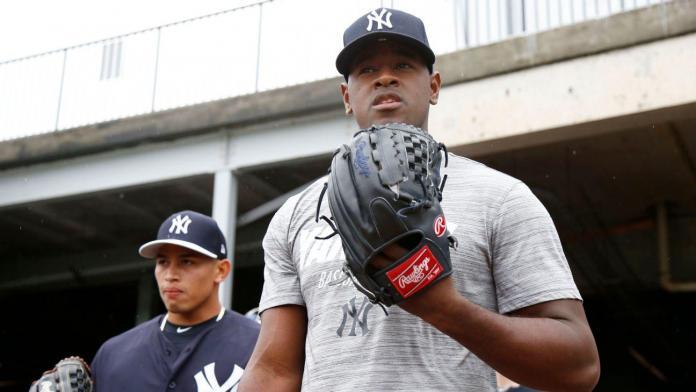 Fans of the New York Yankees will not appreciate this shot to the solar plexus, but with the suddenly questionable status of projected number two starter Luis Severino, their off-season has been New York Mets-like. Obviously, it was not identical to a Mets off-season because the Mets, under the Wilpons, would not spend the $324 million the Yankees did to sign Gerrit Cole.
Apart from that, the Yankees did nothing noteworthy to improve their roster. In fairness, they won 103 games in 2019 and, apart from a true ace at the top of the starting rotation, had few glaring holes to fill. Still, they did not acquire any other established major leaguers. In addition to Cole, they retained Brett Gardner and Aroldis Chapman, but that was it.
The players they lost might not have been critical to their operation, but Didi Gregorius is a potent bat, solid defender and good natured leader in the clubhouse; Dellin Betances had an injury-filled 2019, but was a key bullpen component for five years; Edwin Encarnacion was a power threat; and Austin Romine a serviceable backup catcher.
Had they adequately replaced these players, it would have been fine. They didn't. What they instead chose to do is identical to what the Mets have done on an annual basis and, ironically, did not do this past winter: rely on unheralded players whose previously journeyman careers had a wondrous rise and expect veterans who suffered injuries to return completely healthy.
Fans whose eyes glazed over at the highly expensive signing of Cole have their shiny new toy, expected to be the final piece of the puzzle to break their championship drought now in its second decade. This has distracted from the team's reliance on Severino and other players who do not warrant being categorized as automatic.  The list of players about whom the question "are they really expecting?" should be asked is troublingly long.
Are they really expecting Giancarlo Stanton (who played 18 games in 2019) to be healthy and reliable as a force and not the streaky stat-compiler he was in 2018?
Are they really expecting Aaron Judge (limited to 102 games in 2019 and already dealing with a shoulder issue) to be healthy all season?
Are they really expecting Gio Urshela and Michael Tauchman to repeat their borderline miraculous career turnarounds that happened at the late ages of 27 and 28 respectively after doing next-to-nothing in the majors before donning pinstripes?
Are they really expecting D.J. LeMahieu to repeat his .349 batting average on balls in play (BAbip)?
Finally, are they really expecting Severino to be a consistent cog in their starting rotation after missing almost the entire 2019 season and showing up injured in 2020?
The Yankees pulled a George Steinbrenner-esque maneuver when, after their injury-plagued 2019, they fired their strength and conditioning coach Matt Krause. Yet they are again confronted with a litany of injuries a week into spring training, one of which could largely cancel out the signing of Cole.
The injuries to Severino and James Paxton put the Yankees in a position where they must rely on J.A. Happ, who they were initially trying to trade to shed his salary after they signed Cole; and Jordan Montgomery, returning from Tommy John surgery.
Currently, the only truly reliable, high-end starting pitchers they have are Cole and Masahiro Tanaka.
Severino missed nearly the entire 2019 season with shoulder inflammation. Now, with a forearm issue and an undetermined status, the Yankees are facing another potential absence for an extended time-period. The team is putting on a brave public front regarding Severino's injury, downplaying its severity while at the same time saying that he might need to begin the season on the injured list. This too has become commonplace in the Bronx despite their players' injuries often resulting in the worst-case scenario.
Hype aside, there are legitimate questions that should be asked as to whether the Yankees should have stopped at Cole. The Boston Red Sox might not be a major threat to them in 2020, but the upstart Tampa Bay Rays are. The Houston Astros, despite being under siege, are still a very good team. The Cleveland Indians and Minnesota Twins are solid. There are always at least two surprise teams.
Perhaps they will get lucky in way the crosstown Mets never seem to when using that "if only" strategy. However, the Yankees base their success or failure on whether they win a championship or not, so the foundation is different from the Mets'. Using the same blueprint is likely a mistake that could cost them in a similar way. The main difference is that their fans will not be waiting for it like an annual shoe dropping on the heads of Mets fans, knocking them out until the next spring training when it can start all over again.