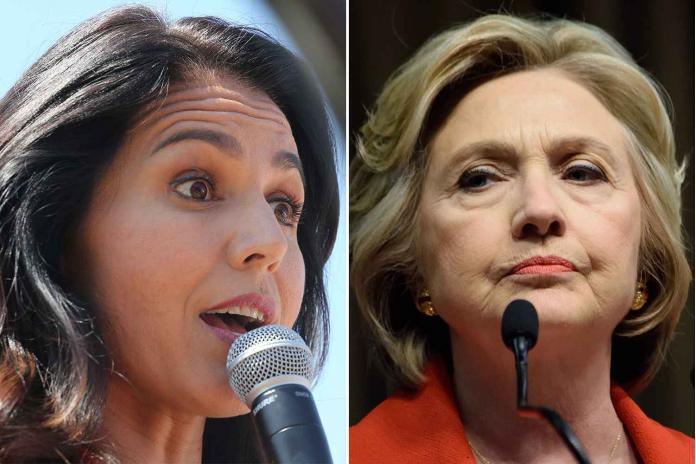 The $50 million dollar question that will be settled in a New York court room at some point in the future is whether former Secretary of State and Democratic Presidential nominee Hillary Clinton caused major damage to the reputation and candidacy of Congresswoman Tulsi Gabbard, as well as great economic loss.
The lawsuit, filed in the U.S. District Court for the Southern District of New York, accuses Clinton of having "smeared" Gabbard's "political and personal reputation."
The lawsuit, filed in the U.S. District Court for the Southern District of New York, accuses Clinton of smeared the "political and personal reputation" of Gabbard.  A result of Clinton's remarks that Gabbard was a "favorite of the Russians" and that Republicans were "grooming" Gabbard in some way to sabotage democrats in the 2020 general election.
Clinton's remarks were made on a podcast hosted by David Plouffe, who was the campaign manager for President Barack Obama's 2008 campaign:
[Russia] has a bunch of sites and bots and other ways of supporting [Gabbard] so far. That's assuming Jill Stein will give it up, which she might not because she is also a Russian asset.

They know they can't win without a third-party candidate, and so I do not know who it's going to be, but I can guarantee you they will have a vigorous third-party challenge in the key states that they most need it.
Mere hours after Clinton's comments spread across the internet and social media, Gabbard offered a strong rebuke on Twitter. Calling the former presidential candidate the "queen of warmongers" and also accused her of prompting a New York Times hit piece released before the Democrat presidential debate.
… concerted campaign to destroy my reputation. We wondered who was behind it and why. Now we know — it was always you, through your proxies and …

— Tulsi Gabbard 🌺 (@TulsiGabbard) October 18, 2019
… powerful allies in the corporate media and war machine, afraid of the threat I pose.

It's now clear that this primary is between you and me. Don't cowardly hide behind your proxies. Join the race directly.

— Tulsi Gabbard 🌺 (@TulsiGabbard) October 18, 2019
In a statement to The Hill, Gabbard's lawyer Brian Dunne said, "Tulsi Gabbard is a loyal American civil servant who has also dedicated her life to protecting the safety of all Americans."
"Rep. Gabbard's presidential campaign continues to gain momentum, but she has seen her political and personal reputation smeared and her candidacy intentionally damaged by Clinton's malicious and demonstrably false remarks."
Clinton spokesman Nick Merrill's response to the allegations was a very succinct, "That's ridiculous".
Part of this fight that Gabbard is taking up against Clinton has to do with her belief that the "political elites" must be held accountable for "distorting the truth in the middle of a critical Presidential election."
The lawsuit also claims that Clinton "reserves a special hatred and animosity for Tulsi" because Gabbard endorsed Senator Bernie Sanders over Clinton in the 2016 Democratic primary campaign as opposed to falling in line with establishment democrats and openly supporting Clinton.
Gabbard has stated multiple times that she will not run for president as a third-party candidate if she does not win the nomination. Her support among democratic primary voters has consistently held between 1- and 2%.
The larger question, however, is this:
Is this lawsuit with merit and legitimate justification?
And if it is, what does that say about our political system and those ruling over it?