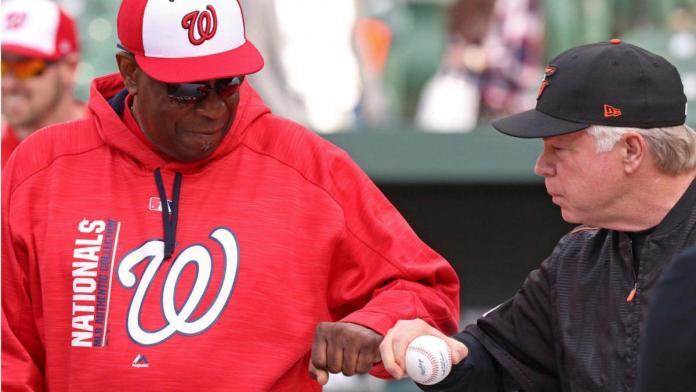 Buck Showalter, Dusty Baker and John Gibbons have interviewed with the Houston Astros to replace the fired A.J. Hinch. This is a dramatic about-face from the way the Astros and just about every other team is now run in Major League Baseball.
While the club hasn't only interviewed veteran managers, given that they have spoken to or will speak with Eduardo Perez, Jeff Banister, Will Venable and Joe Espada, it is unique that they are even considering older managers who tend to have their own opinions and no reluctance to express them or implement their own strategies.
It's especially glaring for a data-centric team like the Astros. However, it was technology and how its use can spiral out of control that put the Astros in this precarious position to begin with. Now, maybe they want to alter the narrative by hiring a manager who will rein in that relentless pursuit of an edge when it crosses lines of propriety.
Interestingly, owner Jim Crane has taken over the entire baseball operations after firing general manager Jeff Luhnow. Unlike the top down management style in which the general manager is the main baseball decision maker, Crane deciding on the manager and the GM separately is a drastic adjustment from how the Astros had been run under Luhnow; how Crane wanted the Astros to be run. It's entirely possible that Crane will choose someone who isn't a household name or at least isn't as well known, but even thinking about veteran managers is something Luhnow would never do. He'd stick a mannequin wearing a uniform in the corner of the dugout first.
The New York Mets have also batted around Baker's name. For them, it is glaring because they shunned Joe Girardi and allowed him to go to the Philadelphia Phillies when he appeared to prefer the Mets job. Now, after firing Carlos Beltran for his role as the only player specifically named in the Astros' sign-stealing, they're also searching for a manager.
In an era when the one-time illustrious job of baseball manager has been reduced to that of a nameless, faceless and replaceable functionary whose main role is to follow orders, it's ironic that the biggest scandal since the steroid era has led to teams considering old-school managers whose experience, personality, independence and salary demands had made them obsolete. We already know what changed with the sign-stealing controversy rocking the game and calling the validity of the Astros' success into question.
Why would teams that were so invested in the new age of baseball where managers were largely irrelevant even think about reaching into the past and giving an experienced manager the money and power he wants?
Here's why.
Timing
It's unusual that three managerial jobs are open so close to the start of spring training. It's even stranger that the three jobs are so high-profile with the Astros, Mets and Boston Red Sox. But this is undeniably an unusual situation. All conventional wisdom is thrown out the window when teams are caught up in this type of unyielding firestorm.
If this had happened in December, then perhaps there could have been a more exhaustive search and the Astros would have stuck closer to their script, hired a new GM and then the manager. But the suddenness of the report on sign-stealing and Crane's immediate response to decapitate his baseball operations makes it urgent that he do something to show credibility and that the inmates are no longer running the asylum with the tacit approval of their boss, Luhnow, and his amoral underlings like Brandon Taubman.
Spring training is about to open and teams who were in the middle of this mess do not need to answer the question as to why this won't happen again. With a veteran manager, they won't.
Credibility
A major problem faced by managers in today's game is that the players have the power over them and know it. There's no ambiguity in the structure. The front office is making the decisions. The manager is a conduit of the front office: replaceable, relatively low-paid and clearly aware of his place in the pecking order.
The strategies implemented by veteran managers will differ from the adherence to sabermetrics. But that is only a slight change from the real difference between a veteran manager and a middle-manager. Showalter might not follow the numbers as they are presented by the front office, but he is also known to tweak his starting pitching plans based on the scheduled home plate umpire.
It's not like he's just throwing things at the wall. Simply because there's a different methodology does not mean it can't work. It's worked for Showalter and Baker before. It can work again…as long as they have the players. In Houston and with the Mets, they do.
"Because I'm the *bleepin'* manager of this *bleepin' team. That's why." 
The above reference is one of the most famous manager-player arguments caught on camera between Jim Leyland and Barry Bonds. An irate Leyland got in Bonds' face when Bonds was disrespecting coach Bill Virdon and loudly complaining about his contract.
Would a manager pull that today with a star the magnitude of Bonds? Would the player back down as Bonds did?
A prime example of how a veteran manager functions is when Jack McKeon took over the 2003 Florida Marlins for Jeff Torborg. One of the minor tweaks he made was to lock the clubhouse door during games to stop Josh Beckett and Brad Penny from leaving the bench to hang around in the clubhouse. McKeon, 72 at the time, had been in baseball for just shy of 50 years and served in every possible capacity except owner.
At his age and with his experience, he did not care what the players wanted. He was not looking to placate them or to be their buddy. He certainly wasn't afraid of them, worried that they would pull the "I'm making tens of millions of dollars. You're replaceable. I'm not" card.
Did McKeon locking the clubhouse door directly lead to the Marlins winning the 2003 World Series? No. Did the act send a message to the players that playtime was over and they were not going to bully the veteran baseball man who had seen it all, done it all and was willing to treat them like men if they acted like men and performed on the field? Absolutely.
It could be argued that Hinch chose not to get involved too deeply with the Astros' sign-stealing because he did not want to risk losing the clubhouse and encountering similar problems he had in his first managerial chance with the Arizona Diamondbacks. This is not to imply that Hinch was frightened of the players, per se. It does, however, illustrate that he did not want to invite the possibility that he would be ignored if he took too hard a line to stop the video use and signaling. He admitted he broke the equipment twice only to see it replaced and did nothing more than that. What does that say?
Baker and Showalter would not worry about that because they would tell the players to stop with the same attitude as McKeon showed – "I don't care what you think. I'm the manager."
Changing the narrative
Is there a bigger spin from a manager who does what he's told as part of the job to a manager who has the cachet and history to shun certain orders and not worry about being fired? It might sound counter-intuitive to go so far in the opposite direction, but given the magnitude of this scandal and that this is not going away, perhaps the Astros and Mets are thinking that they want the stability of knowing what they're getting even with the need to delegate and accept flaws and personality quirks.
These veteran managers are honest with the players; they handle the media; they're not puppets of the front office; and if they have the talent on the roster, they win.
Just as baseball had become so immersed in numbers that the personality-based managers with their own style of play became obsolete, teams are considering exactly that type of manager again. That it isn't by choice is irrelevant. In fact, it might have been unavoidable as teams took the win at all costs mentality advocated by the likes of Luhnow and his staff to its logical conclusion.
Players, untethered by any supervision and functioning in a Machiavellian ends justifying the means way, behaved this way because they were allowed to behave this way. That will not happen with Baker or Showalter. And maybe that's the point.