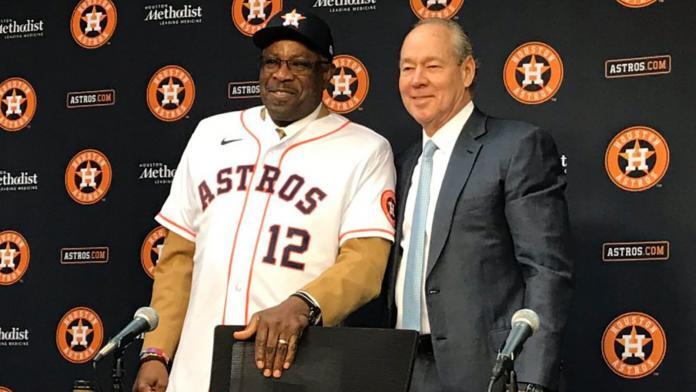 At the height of Houston Astros-mania when they had just won the 2017 World Series and owner Jim Crane and general manager Jeff Luhnow's tanking deployment was an undeniable success, the talk was not about how the apparent bubble could burst, but whether it was the first year in a pending dynasty. The narrative was dutifully promoted by the club, the players and the media.
The story's feel-good attributes were suitable for family-friendly fare on the Hallmark Channel with the filmmakers likely to find a role for Lori Loughlin. The story of worst-to-first; baseball outsiders who had never played remaking the game; Justin Verlander and Kate Upton's move from Detroit to Houston and fairy tale romance; Jose Altuve's "size doesn't matter" and "never give up on your dreams" rise to Most Valuable Player and super-stardom; all the way down to Carlos Correa's over-the-top marriage proposal amid the postseason celebration – it was sweet, wonderful and objectively ludicrous to those who were cynical enough to understand both the fickle nature of crafted storylines and the reality that things are not always as they seem.
Still, had anyone said that the organization would be mired in scandal, vitriol and embarrassment just over two years after that November night, it would have been too much of a heel turn to be believable. Add that the replacement for Hinch would be the veteran manager who epitomizes what the stat-centric, supposedly forward thinking outsiders who have infiltrated and infested baseball have tried to eliminate – Dusty Baker – and the book proposal, movie treatment or teleplay would have been rejected as preposterous.
Yet, here we are.
Luhnow fired; manager A.J. Hinch, fired; the organization in disarray and doing everything it can to stanch the bleeding; and Dusty Baker is the new Astros manager.
Truth is stranger than fiction is an easy statement, but this goes well beyond a dystopian alternate universe where the blatant irony is too much to warrant the necessary suspension of disbelief.
Astroball, as we knew it, is officially dead. Rightly or wrongly, the Astros will forever be known as sign-stealing, garbage can-banging cheaters whose acts resulted punishments that are among the harshest in the sport's history.
With Crane going so far to the opposite end of the spectrum in his managerial hire, Baker, the question why has some obvious and not-so-obvious answers.
In the end, the choice is a good one despite the Baker naysayers. Here's why.
Dusty Baker is in charge, without question.
There won't be any insinuation and threats coming from Dusty Baker. He protects the players and will calm the poisoned atmosphere. A player who cannot play for Baker cannot play for anyone. The rules are simple: be on time and play hard. There is the unsaid understanding that Baker is not a 40-something who will tolerate certain things just to keep the job, making it all-but impossible that the same sign-stealing and other untoward acts will happen while he's running the team on the field.
Whereas Hinch openly stated that he meekly tried to put a stop to the signaling by twice breaking the replay equipment only to see it replaced, Baker will not need to break anything if the Astros dared to try to pull something similar. He'll make them stop because, at his age, he has nothing to lose and walks in with the street cred for the players to listen to and respect him.
The contract Baker agreed to – one-year with a club option – has the tone of Crane taking advantage of Baker's desperation to manage and the need to bring in a manager who he, the club and the rest of MLB can trust not to let the same issues crop up. But it also leaves Baker with a nothing-to-lose freedom. This is his best shot to win that elusive World Series as a manager and punch his ticket to the Hall of Fame. He need not worry about having a job in 2021.
An understated expectation is that Chris Speier will be on Baker's staff. Speier has been Baker's enforcer in every managerial stop and that will not change in Houston. Baker can play the good cop and the dad players don't want to disappoint; Speier can give the withering glare and "take no crap" attitude he had as a player and maintained as a coach.
Baker's strategic decisions are in line with the way the game is played in 2020.
Managerial strategies are notoriously subjective. If, for example, a manager has a reliever in the bullpen who is an obvious choice to face a certain hitter or two and he doesn't use that reliever in that situation, it's the foundation for criticism and assertions that he made a mistake. However, that reliever might have a tender elbow that day and the manager does not want to inform the media and, by extension, the rest of MLB about an issue that is not expected to warrant a stint on the injured list.
So, he takes the hit and says something like, "manager's decision" or comes up with a ridiculous excuse. It might look bad to the media and fans, but it certainly doesn't look bad to the players.
One of the biggest criticisms of Baker in the past was his attachment to certain players like Corey Patterson and Shawon Dunston – players who probably should not have been granted as many at-bats as Baker gave them at that point in their careers.
It's a fair point.
These critiques might have been valid 10 to 20 years ago when managers had greater freedom to write the lineup. That is no longer the case. While the Astros might be reaching into the past for a veteran manager to clean up the mess Luhnow and Hinch left behind, that does not mean Baker's strategies will deviate from the current norm. He's not going to have Verlander or Zack Greinke throwing 155 pitches in a game. He's not giving everyday at-bats to players whose role is pinch-hitter, pinch-runner and defensive replacement.
Regarding strategy, it's laughable that fans of the New York Yankees and Los Angeles Dodgers are mocking Baker when their managers – Aaron Boone and Dave Roberts – made egregious postseason gaffes that stemmed from a lack of experience and adhering to the flowcharts and orders sent down from the front office. The deer in the headlights, "I dunno what to do!" look on their faces is part of the reason their teams lost.
Even Hinch got demolished during and after the World Series Game 7 loss after pulling Greinke and using Will Smith instead of one of his available starters who were in the bullpen. No manager is immune to it. It's just a convenient excuse to attack Baker when he's not managing any differently than other MLB managers.
Regarding the "playoffs are a crap-shoot" alibi presented by front offices who are running the team from top to bottom from the executive suite, it's either the playoffs are a crap-shoot or you can blame the manager for making moves that don't work. You can have one or the other, but not both.
The machine is in place.
The Astros are not in need of structural changes to the roster. The team is still more than talented enough to contend for a World Series. In today's game, the manager is secondary to the talent level. The days of a Billy Martin-type whose mere presence meant at least 12 more wins than that roster should reasonably have accumulated are over. This is largely because Martin had a scorched earth strategy where he would push his pitchers beyond normal limits to do one thing: win. Every game was Game 7 of the World Series with Martin. In fact, his entire lifestyle was one in which he lived every day like it was his last.
No prospective manager with that attitude is getting a major-league job today – Wally Backman is a prime example. He'd win, but he'd also end up getting fired for reasons that had nothing to do with the won-loss record.
Baker has maximized the talent on his rosters wherever he's managed. No, that has not translated into a World Series win. His teams have frequently been bounced from the playoffs when they were, on paper, better than their opponents. The key, though, is getting the team beyond this controversy, calming things down and allowing the players to play without relentless questions as to whether the 2020 wins are on the up and up. He is not, nor will he ever be a tool of the front office. He's agreeable to listen to reasoned advice, but he's not a yes-man. There is no need to worry that a Brandon Taubman-type will be interfering with the on-field product and, more importantly, clubhouse hierarchy.
Baker will not need to be asked those questions because he would put a stop to any appearance of impropriety. After this disastrous series of events, that's what Crane and the Astros needed. With Baker, that's what they've got.