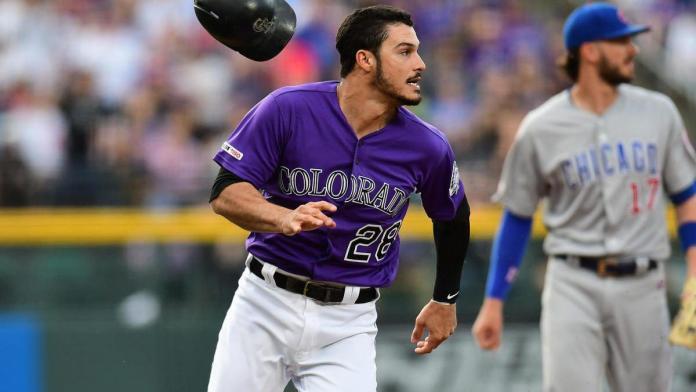 Arguably the best all-around third baseman in baseball, the availability of the Colorado Rockies' Nolan Arenado is the best option for teams with a need at that position. Especially those teams with the need and also missed out on Anthony Rendon. Assuming, of course, those same potential suitors view Josh Donaldson's age and eventual decline as a prohibitive factor in going beyond a certain number of years and dollars to sign him.
Chicago Cubs' third baseman Kris Bryant will have a similar line of suitors as Arenado, but the sticking point of his service time grievance against the club is a hindrance. Teams will not know how long they will have him under team control should they trade for him. That is not an issue with Arenado as his cost and contract are known, expensive though they may be.
It might be surprising that the Rockies are entertaining trade offers for Arenado less than a year after signing him to an 8-year, $260 million contract extension. However, after consecutive playoff seasons in 2017 and 2018, the club fell back to 71-91 and 35 games behind the National League West champion Los Angeles Dodgers. With the division strong and Arenado holding an opt-out after 2021, it does make sense that they would consider a retool for prospects and salary relief by trading their most marketable asset, Arenado.
Jon Morosi said the following on Twitter:
Sources: Nolan Arenado has roughly a 50/50 chance of being traded, with a half-dozen teams having checked in, as I just reported on @MLBNetwork. The #Dodgers are *not* the most likely destination, as #Rockies prefer not to trade Arenado in the division. @MLB

— Jon Morosi (@jonmorosi) January 2, 2020
Still, it is not a slam dunk that a third baseman-hungry team should pay the exorbitant cost for Arenado, no matter how great he is. The longtime fear of players who made their name in the light air of Colorado has dissipated to a degree, but it still exists.
For Arenado, there is a drastic disparity in his home/away stats, but the away stats are still impressive with a .799 career OPS. His defense is unparalleled. He would certainly be a great player wherever he is. But is it wise to give up the assets the Rockies would need to quell the anger in the fan base for trading him? To absorb that contract? To surrender the prospects while knowing that barring a catastrophe, Arenado will opt out after two years with his new team?
Teams interested in Arenado come from coast to coast. This too is something to think about as Arenado is from Southern California and might prefer to go closer to home if he needs to accept a deal. Winning is also a priority. With the Washington Nationals, Atlanta Braves, Philadelphia Phillies, Texas Rangers, Dodgers and others potentially having interest, the benefit of trading for Arenado could be mitigated by the risk.
Any possible trade should be categorized as to what is best for the Rockies; what is best for the acquiring team; and what is best for Arenado.
Best for the Rockies
It needs to be a team who will take the entire contract and surrender the biggest haul including one of the following:
Two "can't miss" prospects, plus two good low-level prospects
One established young player plus two good prospects
An established, cost-controlled player they can spin off, plus significant young talent.
The Dodgers check most of the boxes, but when adding in the problematic nature of trading him within the division, they would need to sweeten it even further to get the Rockies to pull the trigger. Then there's the issue of Arenado's no-trade clause.
The Braves are the best alternative for the Rockies. They have the prospects and they need. As cost-conscious as they are, there is a clear reticence of taking the contract, but that opt out is a shield so perhaps something could be worked out. Plus, it gets him out of the division.
Best for the acquiring team
The Nationals have the biggest need and have made an offer for Donaldson. Arenado's contract for 2020 and 2021 is for a total of $70 million. They have the money. The opt out could be considered a safety net protecting them from the same long-term commitment they did not want to give to Rendon. If they're willing to part with Victor Robles, then perhaps they could cobble together a package to get Arenado.
The obvious question will be why they didn't want to pay their own star, Rendon, and then turned around to trade for Arenado. It's a reasonable one to ask.
Best for Arenado
He's from Newport Beach and is a Southern California kid. The Dodgers are his ideal spot. Not only would a trade to Los Angeles likely mitigate the desire to opt out, he'd accept the trade immediately. In addition, the team wins 95 games every year and has a history of renegotiating to preclude an opt out as they did with Clayton Kershaw.
He could certainly force his way to L.A. if the Rockies reach the point of no return, are dead set on trading him and he tells them straight out that he'll refuse a deal to anywhere but there.
What it boils down to is this: the trading team must surrender a massive collection of players, take the contract, and know that they have him for 2020 and 2021 before needing to re-sign him or letting him walk.
The Rockies started this by floating the idea of trading him after one 90-loss season. Now, they're somewhat stuck with the clock ticking, some terrible contracts for underperforming relief pitchers, and a hard division where they will likely finish in around the same place with or without Arenado regardless of him being one of the top five players in all of baseball.