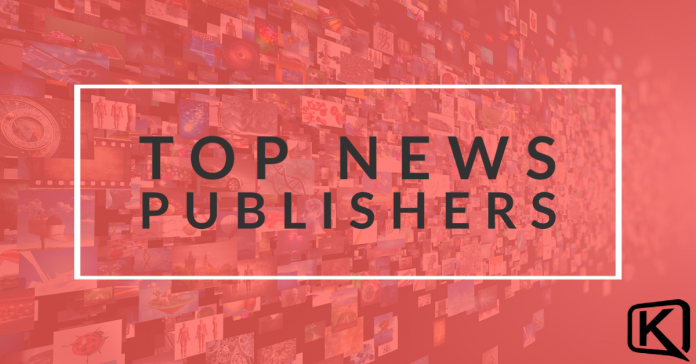 Which news publications have been the 'top performing' ones based on publishing frequency, quality of news, and online reach? We track all of that and here's a look at the top online news publications for January so far (January 1 – 21).
The Atlantic
It's been difficult for most publications to get away from focusing coverage on the COVID-19 pandemic, vaccines, and former President Donald Trump but The Atlantic has done a great job of varying their news coverage overall. Though, their coverage has still been slanted towards coverage of right-wing extremism overall in January – and for good reason.
Top Article: Ta-Nehisi Coates on Donald Trump's Legacy
NPR
NPR has spent a large portion of their time this month focused on President Joe Biden's transition into the White House, the inauguration, the Capitol riot, and COVID-19. None of that should be much of a surprise, as it's a trend we've seen among all major news publishers for January. However, they've also provided great coverage on topics ranging from equality, female empowerment, and bird photography.
Top Article: Dominion Voting Sues Former Trump Lawyer, Seeking More Than $1.3B in Damages
The New York Times
There's been a clear focus of coverage from this publisher and that is providing as much in-depth reporting as possible on COVID-19, the vaccine roll-outs, and politics. With so much focus on these core topics may not realize they also cover other things within business, sports, human interest, and so on. But, they're riding the major topics as any leading publisher would.
Top Article: Simon & Schuster Cancels Plans for Senator Hawley's Book
Politico
Politico used their platform and voice to put more coverage emphasis on former President Trump's potential 2024 run, the second impeachment trial, and what Trump's legacy as President will actually be. There's also been plenty of digital ink spilled detailing the many challenges President Biden may potentially face early on in his administration.
Top Article: Trump Loyalist to be Installed as NSA's Top Lawyer
NBC News
Aside from frequent and prolific coverage focused on COVID-19, NBC News probably offers meaningful coverage on the widest variety of topics. They covered the major political stories, but also covered topics such as the Doritos ad that went viral, the death or hospitalization of celebrities such as Larry King and former Bond girl Tanya Roberts, and human interest stories from around the globe.
Top Article: Trump Approval Remains Stable in new NBC Poll, with Republicans Unmoved After Capitol Violence
Honorable Mention: