QAnon has been getting plenty of attention in the news lately, and concerns over the group and its followers have sparked so much attention from legislators, journalists, and anyone with a Twitter account that Congress has written and passed a bipartisan bill rejecting QAnon and condemning the conspiracy theories and violence it promotes. The resolution itself made sure to call out specific examples of the violence and criminal activity perpetrated by the group's supporters, which has led to an increase in calls for law enforcement – the FBI specifically – to devote more resources towards combatting the conspiracy-driven acts of extremism and violence.
Some of the crimes committed by supporters of QAnon involve kidnapping, murder, and terrorism.
Below is a timeline of news coverage on QAnon from July 11 to October 1.

One thing that you can pick out from the graph is notable spikes in online stories being published. We're going to take a look at each significant spike in news coverage to get a sense of what prompted the online news industry's attention.
July 21 – 22
Twitter banned thousands of accounts associated with or directly belonging to QAnon members/supporters. These accounts were spreading conspiracy theories, calling for violence against elected officials of the democratic party or 'liberals' in general, and organizing protests against specific people or causes. All-in-all, Twitter banned over 7,000 accounts directly.
Many showed generous support for the move, but some believed even QAnon supporters deserve free speech.
August 11 – 14
Marjorie Taylor Green won her GOP nomination for the northwest Georgia US House seat. Green came out in strong support of QAnon, and in return, QAnon supporters showed great support for her. Despite the multiple racist videos she has made, and her backing of QAnon, President Trump and other prominent Republicans embraced her candidacy and victory. Trump even went so far as to call her a 'future Republican star.'
Green winning her contest in Georgia was the big news for this period, which contributed to online news publications covering it more than 60 times over three days. However, a woman was also ordered to stand trial for her involvement in a QAnon kidnapping plot. That story was largely ignored and forgotten in favor of coverage on Green, Trump, and politics in general.
August 19 – 25
It didn't take long for QAnon to begin trending in the news once again. Facebook announced they were following Twitter's lead and banned over 800 group pages on Facebook, over 10,000 Instagram accounts, and 1,500 ads belonging to QAnon. With QAnon getting this much attention in such a short period of time, journalists began asking relevant and frequent questions to politicians about the group and where they stood on it.
Karl Rove condemned them as 'a group of nuts and kooks,' and said Trump 'ought to disavow them.'
Senator Liz Cheney denounced the group as a 'dangerous lunacy.'
Vice President Mike Pence said he didn't "know anything" about QAnon and dismisses it "out of hand."
President Trump, however, refused to condemn the group and went so far to say they 'like me very much.'
Congress introduced the bill to condemn QAnon, with sweeping bipartisan support, on August 25
September 2 – 6
Former Vice President Joe Biden called the QAnon movement 'mortifying' and 'dangerous' and said QAnon conspiracies are a 'deconstruction' of our democratic system. Much of this time, news coverage of the group focused on what backers of the conspiracy group were doing. Additionally, supporters of QAnon were:
strongly pushing their propaganda around child sex trafficking, which had to be set straight by child sex trafficking organizations

publicly naming child molesters in government, without actual proof

spreading misinformation around and accusing the CDC of intentionally reducing the death count related to COVID-19
President Trump also spent time amplifying many of these conspiracy theories and messages touted by QAnon supporters on Twitter.
September 9 – 16
The meaningful stories that dropped during this last spike in online news coverage centered around Vice President Pence having been scheduled to attend a campaign rally and fundraiser hosted by QAnon backers in Montana. Pence's team later stated that the Vice President would still go to the rally in Montana but not the fundraising event. GOP nominee for a Georgia House seat suddenly had a clear path to victory come November with her Democratic opponent, Kevin van Ausdal, suddenly dropping out of the race on September 11. He initially cited personal and family reasons for dropping out only to later clarify his wife served him with divorce papers, and he would be moving out of state. Then, some good ole' fashioned McCarthyism began to occur when Congresswoman Tulsi Gabbard and Senator Ted Cruz were both accused of 'going QAnon' after criticizing Netflix's 'Cuties' film, which was the subject of much backlash for its perceived depiction and sexualization of pre-teen girls.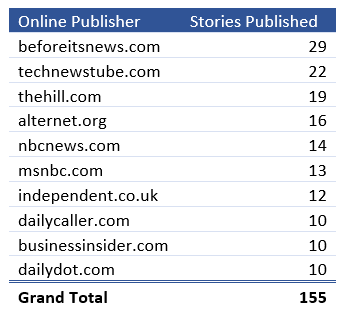 With a recent poll finding that a third of Republicans believe in all or parts of the QAnon conspiracy theories, it's fair to wonder just how serious the threat of radicalization through QAnon is in the United States. They've found a way into being covered by mainstream media – online news publications, cable news outlets – as well as having supporters winning political campaigns that could potentially put them in Congress.
At what point does the QAnon conspiracy theories further erode our necessary faith in the goodness of others? Given our current political climate, it doesn't seem as if it takes much to radicalize ordinary everyday folks anymore.
After all, could QAnon be the new Tea Party or even replace White evangelicalism to some degree among conservatives across the country, in turn invading our politics and government even more than it already has?