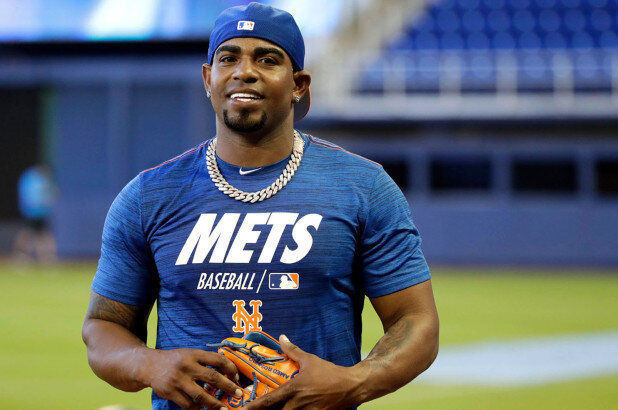 It's doubtful that Yoenis Cespedes was so calculating in his latest inexplicable act of failed potential, sunk cost and disastrous lack of contract fulfillment that he planned to use the New York Mets' gift for embarrassing dysfunction to give him air cover as he left the team for good. But that is exactly what happened as he used another legitimate excuse – COVID-19 and the available exit hatch of a no questions asked opt-out – to flee the organization and bail on the 2020 season.
Most of the after-the-fact assessments and analysis is centered on whether Cespedes or his agents informed the Mets that he was leaving or not. The organization asserted that they heard nothing from him, contacted him to no avail, and were stunned that he packed up his belongings and disappeared. Cespedes's camp says they told the club.
There's no way of knowing. If this was another player – one who did not have the history of mishaps and use of a language barrier as a shield from explaining himself – the Mets would be the odds-on favorite to have screwed up, again. Except Cespedes has just as checkered a past as the Mets do.
Reardless, this is an effective distraction from Cespedes abandoning the club under the guise of a reasonable excuse for doing so even if that's not really why he left.
The pretense that he pulled the ripcord because he was worried about a family member who has pre-existing conditions and did not want to run the risk of bringing COVID home is one that cannot be argued. Given his love for golf, "par for the course" is an apt analogy for Cespedes. Comparable to his hamstring injury in 2017, the hip flexor and heel surgeries in 2018, and the still mysterious ankle fractures on his ranch as he was (supposedly) chasing a boar, what can the organization do other than take his word for it?
It's suspicious, but there's no viable way to prove one way or the other that he's being disingenuous.
This has been the narrative from the time the Mets signed him to a 4-year, $110 million contract to retain him after the 2016 season. In those four years, he played 127 games and hit 28 home runs. That translates into one very good season while missing 35 games. The problem is it was amassed in four and he was paid a boatload of cash despite the settlement to reduce his salary for 2020 because of the non-baseball-related injury he suffered on the ranch.
That he agreed to reduce the salary was likely a warning sign that something like this was coming. When the season was delayed and the escape was available to him, it's not a conspiracy theory nor is it an attempt to assassinate his character to speculate that he looked at the situation and came to the following conclusions:
There's a good chance the season is not going to be completed
The Mets are playing terribly and if he keeps playing, he'll run the risk of another injury hindering his opportunities for 2021
He wasn't getting his full salary
No matter how he played, it would not impact the incentive-laden deal he'll get in 2021 (the bet here is that he goes back to Oakland and the Athletics)
For all the "I-told-you-sos," there is one person who did tell you so and was positioned to accurately gauge what would happen: former Mets general manager Sandy Alderson. Although the Mets needed a game-changing masher in the middle of the lineup to make a run to the postseason in 2015, Alderson was reluctant to trade for Cespedes in the first place not because Cespedes is a "bad guy" or a "clubhouse cancer" as many players are categorized, but because he had the reputation for mercurial behavior and when unhappy, he would simply check out. It's precisely what he had done the season before when the Athletics traded him to the Boston Red Sox and he did not like Boston and made clear that he wanted out. The Red Sox obliged him and traded him to the Detroit Tigers where he played every day and played well. Was that in part due to his pending free agency? It's impossible to say otherwise.
There were factions in the Mets organization who wanted no part of Cespedes especially at the cost of Michael Fulmer, but Alderson pulled the trigger and, for two months, Cespedes was a one-man wrecking crew, exactly what the Mets needed in helping them in their run to the National League pennant.
His star power and regular season Reggie Jackson imitation led to fans demanding the Mets re-sign him. Alderson did not want to; did everything possible not to; but with a push from the Wilpons and Cespedes himself willing to accept a team-friendly short-term deal, they reunited. The contract was technically for three years, but there was an opt-out after one and it was obvious that he wanted to cash in for the long term. In 2016, he hit 31 homers, finished eighth in the Most Valuable Player voting, won a Silver Slugger and helped the club to win the National League Wild Card. Then, after opting out, the Mets finally paid him over the long term. Alderson knew perfectly well that Cespedes was the kind of player who ran the risk of getting his money and deciding not to play; that the nagging injuries, displeasure over minor issues, and complacency would light the fuse for the deal to blow up in the club's face.
And it did.
Those who are saying "I knew it" did not know anything. Everyone wanted him back not just because of what he could do, but because of what he did with and for the Mets. Even those who believed he would become disinterested once he got paid could nary have projected that he would not play at all.
While the organization, teammates, fans and media members behave exasperatedly at this latest sideshow, it's easy to use hindsight to say that the club should not have re-signed him. The problem with Cespedes is that in 2015 and 2016, he mostly maximized his limitless potential and showed why he was a five-tool force who could do anything he set his mind to on the baseball field…when he felt like it. He felt like it when he wanted to get that massive contract. Legitimate injuries or not, after he was paid, he came across as a player who did not feel like playing and used those injuries as an excuse to sit, just as Alderson feared.
To a rational person, the organization trying to reduce his salary when he was injured doing something that fell under the umbrella of contract violations would be viewed as a chance he took and got burned for it. An athlete does not see it that way. The athlete sees it as "you're trying to get out of paying me what you're supposed to" whether the club is justified in its attempts or not. For Cespedes, with his "get out of playing free" card, there was no reason to play. So, he went home. Blame the Mets if you want, but Cespedes is the responsible party and is, somehow, even more devoid of credibility that the organization. If nothing else, that is a notable achievement during the doomed contract that, for the Mets, is thankfully winding down. It's not what they had in mind when they signed him, but it's an accomplishment, such as it is.