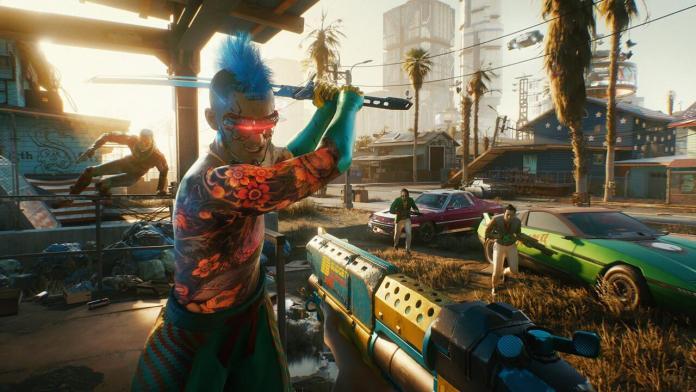 As was proven in our Best Video Games of 2020 (so far) list, this year might be rough on us, but at least there have been some great games to play throughout the craziness. Along with the new PlayStation 5 and Xbox Series X set to release this holiday, there are some very exciting games releasing between now and the new year. Here are the games that have us most hyped for the rest of 2020.
Cyberpunk 2077
Easily the most anticipated game of 2020, anyone with a current gaming system has heard of Cyberpunk 2077. The futuristic RPG is made by CD Projekt Redd, makers of the Witcher games. The game was originally announced way back in 2012, so everyone has been waiting literally this entire console generation to get their hands on the game. From what we have seen, the world offers so many diverse options for you, from shooting down all your enemies, to sneaking through the dark, to talking your way out of confrontations. Undoubtedly, Cyberpunk 2077 is the most exciting game to release in 2020.
Assassin's Creed Valhalla
Keeping up with past games in the series, Assassin's Creed Valhalla was leaked to everyone way before its official announcement earlier this year. Now that we finally got a look at the game, we know we will be leading the Viking's charge on England. Following the booming success of Assassin's Creed Odyssey, Valhalla looks to carry over much of the same elements, but with deeper combat, more conversation choices, and the ability to lead raids on villages. There are not many Viking games available out there, so we are definitely excited to combine the assassin gameplay we love with the brutalness of these invaders.
Halo Infinite
For the first time in five years we are receiving a mainline Halo game which will launch aside the Xbox Series X but will also be playable on PC and Xbox One. As of this writing, we have just gotten our first look at gameplay of the upcoming game and it looks beautiful. Master Chief was floating out in space and is saved by a UNSC pilot. All we know as of the moment is that the Banished are trying to reassemble a Halo Ring and will be the main enemies in this game. We also know that the game will feature some open world elements, letting Chief explore his surroundings more, access upgrades, and will have new weapons and equipment on the field, most notably a grappling hook.
Marvel's Avengers
The Avengers were on top of the world until A-Day, a special holiday to celebrate their efforts. During this event, they were set up to fail in an event that would leak Terrigen mists into the surrounding San Francisco area, creating Inhumans, people that are given superpowers. Captain America is killed during the fight and the Avengers are disassembled. Fast forward five years and a superhero mega fan named Kamela Khan has proof that A-Day was not the Avengers fault and seeks to reassemble them. This game will see you play as a bunch of superheroes, with free updates coming in the future with more heroes and missions to lead the fight against the dangerous MODOK.
Marvel's Spider-Man: Miles Morales
Sticking with the superhero theme, Marvel's Spider-Man: Miles Morales is a direct follow up to the popular PlayStation 4 Spider-Man title but will be launching alongside the PlayStation 5 this holiday season. We do not know much about the game as of now, except that this will completely focus on Miles, the newest Spider-Man on the block as he gets used to his new powers and helps Peter protect New York.
Crash Bandicoot 4: It's About Time
Following the success of the Crash Bandicoot N Sane Trilogy remake of the original games, it seemed like only a matter of time until we received a completely brand-new game in the series. It's About Time is being developed by Toys For Bob, who helped with the development of the trilogy remake and lead development on the Spyro Reignited Trilogy remakes. This game is picking up right after Crash 3: Warped and will completely ignore all games released in the 2000s to bring the story in a new direction. Cortex is back from being trapped in the past and seems to be messing with time again and stealing ancient masks that give Crash new powers as he treks through a new set of levels placed throughout varying environments and time settings.
Tony Hawk's Pro Skater 1 and 2
The original Tony Hawk games were revolutionary when they first released. At the time, there was essentially no market for extreme sports games and the Pro Skater series essentially made everyone want to pick up a skateboard. While the series has fallen far over the past decade plus, there are still many people who hold a very heavy fondness for the original PlayStation games, so it makes sense that the first two games would be completely remade. Popular features and moves have been added in areas that were not there before making this an even better version of what was there before. We also need to mention the return of a majority of the original iconic soundtracks that helped make these games the sensations they were.