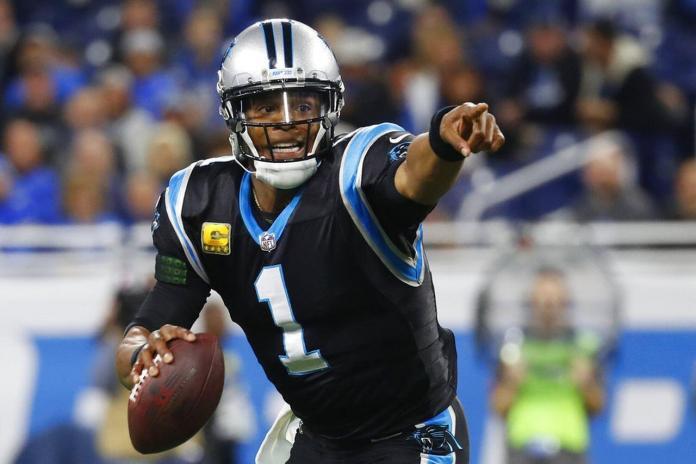 After months of speculation as to how "perfect" a fit it was, Cam Newton and the New England Patriots finally came to an agreement on an incentive-laden, one-year contract for the former NFL Most Valuable Player to get the chance to replace Tom Brady at quarterback.
Given the length of time for which Newton waited for a suitable offer and the accompanying conspiracy theories that he took a desperation deal or, to the extreme, was about to join Colin Kaepernick as being wrongly denied a legitimate chance, the Patriots contract gave ammunition to both perspectives. Some view Newton as competing for a job with a quarterback – Jarrett Stidham – who is not in his class while lesser players at the same position are cashing in; others see it as Newton having no choice but to go to New England on his knees and take what was offered before he suffered Kaepernick's fate.
For obvious reasons, it's silly to compare Newton to Kaepernick. Kaepernick is assuredly blackballed for his peaceful protests against police brutality and that teams do not want to deal with the media circus for a backup quarterback. Newton has no such baggage.
Newton has had surgical repairs of his throwing shoulder and a Lisfranc injury. He missed most of the 2019 season, but is supposedly healthy as he prepares for his first season in New England. The era in which quarterbacks were essentially finished at Newton's age of 31 is long over. Statistically, Newton is unfairly judged based on his 2015 MVP year when he led the Panthers to a 15-1 record and a Super Bowl loss. Overall, his production has been consistently good apart from that one great outlier in 2015.
The key here is his health and if he can seamlessly slide into the Patriots' system.
Of course, it's possible that Newton gets to Patriots camp and it doesn't work. Belichick made no promises to Newton and there's little financial damage if they need to cut him. They were prepared to move forward with Stidham if they were unable to get a veteran like Newton and if Stidham is better, Belichick will not hesitate to start him. This is the same man who, without his current pedigree as coach of the Cleveland Browns in 1993, cut Cleveland's hometown hero Bernie Kosar. Vinny Testaverde eventually replaced Kosar, but at the time, Testaverde was out with a separated shoulder. The team was 5-3 when Kosar was cut and Belichick was forced to start journeyman Todd Philcox.
Not only did Belichick cut Kosar, he basically said he felt he had a better chance to win with Todd Philcox.
It turned out that Belichick's coldblooded assessment of Kosar was right. The quarterback's bizarre short-arm slingshots had lost their zip. He just wasn't good anymore. Still, it took immense audacity to pull the trigger the way Belichick did and invite the vitriol he received especially with his dour personality and mediocre results already wearing thin with the media and fans in Cleveland.
The current situation with the Patriots is different, but not all that different. As important as Brady was, Belichick was always ready to move on if need be. And now, he has.
The concept that Belichick wants to see if he can "do it" without Brady is similarly silly. His place in history is set. Now, it's winning. If he felt he needed Brady to win, this is not a topic of discussion. Brady would have remained a Patriot.
It is also inaccurate to say this is Stidham vs. Newton. If Newton is anywhere close to normal strength, he will be the starting quarterback. Instead of the competition being the veteran Newton against Brady's latest heir apparent Stidham, this is really Brady's shadow and legacy vs. Newton's upside.
As great as Brady has been, a major portion of his story is how unheralded he was and that his determination, work ethic and taking advantage of an unexpected opportunity facilitated his rise from sixth-round pick to arguably the best to ever play. Still, when placing Brady next to Newton in a blind Pepsi challenge on draft day with what they are right now, would anyone honestly take Brady over Newton based simply on physical capabilities at their respective ages with Newton at 31 and Brady at 43?
But this goes beyond age. It's back to the prototype quarterback like Newton and the player Brady replaced, Drew Bledsoe, fighting the afterthought sixth round pick who tossed a lot of intangibles and worked-worked-worked to get where he is.
As great as Brady was and as much as he was an extension of Belichick and Josh McDaniels, the coach and offensive coordinator were never shy with their lustful "what we could do with him" looks at Aaron Rodgers rarely seen in NFL circles apart from a Washington football club meet-and-greet with cheerleaders circulating among season ticket holders and owner Daniel Snyder's friends.
Fissures between Brady and Belichick are repeatedly referenced as spurring his departure, but that tension was there for 20 years because Brady knew that once he had outlived his usefulness, Belichick would not hesitate to dump him. Despite his solid numbers and 12-4 won/lost record in 2019, there were clear signs of decay that could not be ignored. And Belichick did bit ignore them. Brady was missing throws that he would nail in the past. Blame fell on the head coach/football czar for failing to surround Brady with a sufficient cast, but that does not change the incremental reduction in arm strength, that he can barely move and that he appeared weathered and old as the team that started the season 10-1 stumbled badly losing four of their final six games including a Wild Card playoff loss at home to the Tennessee Titans.
One of the reasons Belichick has maintained and rebuilt on the fly is in part due to Brady being in place and willing to take short money to have a supporting cast to win, but it's also in part because he cut and traded players a year too early when they could no longer play how he needed them to play. Why wouldn't that extend to Brady?
As for Newton landing in New England out of desperation, the evidence does not support the claim. He had options, but none were as alluring as New England. He could have been a fit in Chicago had the Bears been willing to completely cut ties with Mitch Trubisky. They weren't. Instead, they brought in a bipolar performer in Nick Foles who can be great and can be awful.
Which Foles are they getting? The guy who threw 27 touchdowns and 2 interceptions in 2013 and won a Super Bowl after Carson Wentz's injury nearly demolished the Philadelphia Eagles' Super Bowl dreams? The guy who twice signed massive contracts with the St. Louis Rams and Jacksonville Jaguars as those teams thought they were getting the good Foles and each ended up discarding him after a year?
The Bears want Trubisky to succeed. Signing Newton would have been a sign a true quarterback battle was set to take place – one that Trubisky probably loses; signing Foles signals an intention that Trubisky will be the quarterback with Foles the safety net.
Newton's former team, the Carolina Panthers needed a quarterback and could have reconciled with him, but the relationship had run its course. Maybe Washington was a possibility with his former coach Ron Rivera if they were not ready to go with Dwayne Haskins fulltime. Given the state of that team on and off the field, who wants to go there?
The Indianapolis Colts signed Philip Rivers early in the offseason. The Los Angeles Chargers are committed to Justin Herbert and have Tyrod Taylor as a backup. The Tampa Bay Buccaneers signed Brady.
Where was Newton going to go to get the opportunity he's going to receive in New England?
Newton's resume and reputation did not dictate he accept any job available even if it meant being a "mentor" or "caddy" for someone who is clearly inferior to him. Maybe that would have happened had he not signed with the Patriots; had the Patriots not pursued him. Mutual interest, mutual benefit, mutual reward.
Newton was bestowed with a level of talent that few in the NFL have. It's been hit or miss in executing it, but it's there. The clothesline throws, the massive size, the speed – Newton maintains these same attributes that made him the first overall pick and won him the MVP.
Thinking he won't adhere to the Belichick rules is preposterous. He was never a "problem" in Carolina. In the context of the NFL and the behaviors that many players indulge in, Newton making a silly comment every on occasion, complaining about his contract or even his Roger Stone-like sartorial style is kid-friendly. His teammates emphatically defended him. Even if he had been an attitude problem, Belichick has reined in talented players like Randy Moss who were unruly in previous stops because they were aware that he wouldn't tolerate any nonsense and they could replenish their reputations to make more money in the future in New England or elsewhere.
Yes, there were players like that who were signed and did not fall in line like Albert Haynesworth, but they gave him the shot and cut him when it failed.
This union between player and team was not borne of desperation. It's self-serving condescension to imply that Newton was relegated to debasing himself with a competition against Stidham and taking short money for New England when he should have no problem winning the starting job and he will make his money if he performs. He went to New England because that's the best spot for him. It's hard to argue with the logic behind it for the team and the player.