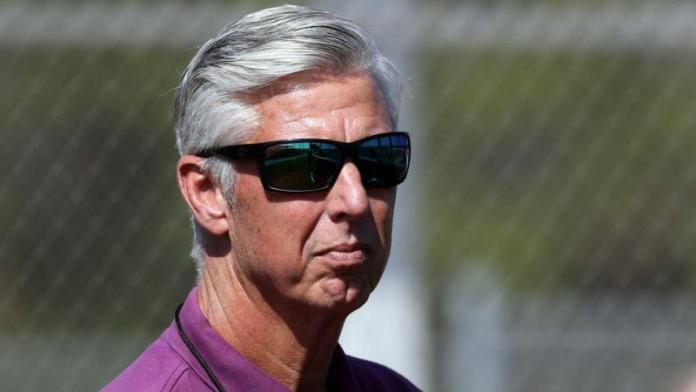 Former Boston Red Sox president of baseball operations Dave Dombrowski discussed his firing for the first time in a podcast appearance with MassLive.com's Chris Cotillo.
Those expecting a scorched earth, bridge detonating display of indignant rage at the audacity of Red Sox owner John Henry discarding him after he achieved everything asked of him when he was hired in 2015 will surely be disappointed and have paid zero attention to Dombrowski's four-decade career in baseball.
Regardless of agreement or disagreement with his methods, he did not get where he is in baseball by alienating people. He's well-liked and has maintained solid relationships throughout the game, even with people who have fired him. That and his history of success is why he keeps getting jobs. Currently, Dombrowski is working to bring a major league team to Nashville, but if another general manager opportunity opens up and there is a fit for what he brings to the table, he will eventually be back running an established club.
"What he brings to the table" is key and directly ties in with why the Red Sox hired him. It's also why he should have expected to have a short run as their baseball boss and would eventually be dumped once he'd served his purpose.
In discussing the Red Sox situation, Dombrowski said the dismissal was "jarring" as he expected to receive a contract extension. He also refused to criticize the Red Sox in how it was handled with the club making a terse statement after midnight – the equivalent of a news dump. All he said was there was "a lotta change." He didn't want to leave and said so. The 2019 Red Sox were never a serious contender to defend their title and the 84-78 season was, according to Dombrowski, "disappointing."
Obviously, ownership felt the same way. It's reasonable to say that he probably should have expected something to happen during a down season when the team was not negotiating a contract extension and was ominously silent throughout the summer about the status of the baseball operations department.
There's a certain naïveté to Dombrowski. Either his poker face is state of the art or he did not seem to realize that he was a desperation hire and it was an extended run of failure that spurred Henry to act. The 2013 season is counted in that span despite the Red Sox winning the World Series. When that team won the title, Henry was surprised and said so. Objectively, the 2013 club was a patchwork group of likable mercenaries cobbled together out of the same desperation that led to the hiring of Dombrowski. Those types of teams rarely achieve their objective, but that one did. As the team again floundered in 2014 and 2015, Henry's belief that 2013 was a fluke grew increasingly louder. The confluence of events and best-case scenarios on the field resulted in the championship, but that team had the following records under Cherington:
2012: 69-93
2013: 97-65, winning the World Series
2014: 71-91
2015: 78-84
It was in August 2015 when, shortly after Dombrowski had been fired by the Detroit Tigers, he was hired by the Red Sox. Henry, a sharp judge of personnel and rarely swayed by surface results when there was decay beneath, acted and gave Cherington a boss he did not want and with whom the philosophical chasm was too great for them to work together. As a concession, Cherington could have stayed had he wanted to, but that was for public consumption. For all intents and purposes, he had been publicly castrated and had zero interest in being a powerless front man taking orders from Dombrowski.
Dombrowski's hiring to replace Cherington was as, if not more, surprising than his firing 10 months after winning the World Series in a dominating team performance comparable to the Big Red Machine Cincinnati Reds of 1975-76, the 1984 Detroit Tigers, the 1986 New York Mets, and the New York Yankees of 1998-2000.
As much as the pre-Dombrowski Red Sox tried to sell an image of targeted free agent signings and trades in which they refused to part with their "best" prospects to get veteran players they needed, they generally failed to adhere to it while claiming they did.
In this sense, Dombrowski's lack of pretense is notable. There's no overhyping of prospects or selling of "his" method to have a book written about him. While it is assuredly not the cheapest way to build a championship team, the fastest way is to buy players on the free agent market and trade unestablished youngsters for known entities. This will never change and Dombrowski knows it.
He's not playing a part to sell to the masses. Teams tell him what they want him to accomplish and he goes about accomplishing it. It's simple and nuanced at the same time. Still, once that championship had been won and the Red Sox looked at their bloated payroll, declining farm system and the sleepwalking, underachieving club from 2019, there were a litany of convenient excuses for Henry to do what he might have done anyway: jettison Dombrowski to hire someone who would adhere to the principles he prefers. He wanted to cut payroll with a GM who is not hired because he'll cut payroll, but because it's part of his "plan." He got that in Chaim Bloom.
Under Dombrowski, there was said to be little collaboration with the underlings in the front office. They felt marginalized and ostracized by the eye-rolling and unabashed disregard they faced from Dombrowski lieutenants Frank Wren and Tony LaRussa. Dombrowski comes from an era where the GM makes the decisions and there are no committee meetings to reach consensus before acting. Today, that structure is rarely, if ever, used in any sport. The New England Patriots are a notable exception, but their success is the main reason it has continued as is with Bill Belichick the unquestioned football despot.
Despite the seeming callousness with which he has operated and deflected taking blame, is there a better sports owner than Henry? That holds true not just for the Red Sox, a club that has had unparalleled overall success under his stewardship with four World Series wins after not having any for nearly a century, but also for Liverpool FC in the English Premier League, its newly crowned champion.
He spends money; he puts people in charge who know what they're doing and achieve the stated goal; and he wins.
Dombrowski was a part of that, but clearly not to the extent envisioned by him in that he thought he'd get a contract extension and be accorded the right to rebuild on the fly. His hiring was a short-term decision to win at all costs. And he did.
In fairness to Henry, what else was he supposed to do in a case with diminishing returns? Spend more money? Surrender more prospects from a diminished pool? Hold the line and try to move forward with what the team had knowing how loaded the New York Yankees were? Let Dombrowski oversee the reboot when his strength as an executive is doing what he did from 2015 to 2018 and not what the Red Sox wanted to do for 2020 and beyond? Henry needed to start over with a new front office that adhered to the stat-centric, financially reasonable tack he favors.
Henry's coldblooded, analytical assessment of Dombrowski mimicked what it was that led to Cherington's ouster and Dombrowski's hiring in the first place. To that end, the dismissal was no shock. In fact, it should have been expected, especially by Dombrowski.