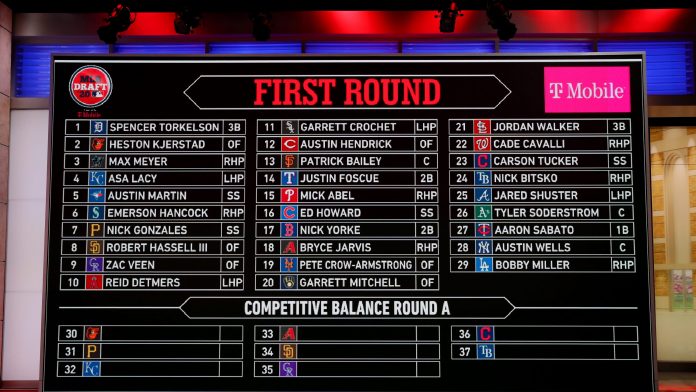 Since there's nothing baseball-related to watch other than MLB itself and the Players Association bickering over how to start the season, how much money the players will get and what the playoff formula will be – its usual exercise of gnawing its own limbs off – the MLB Draft is the only game in town, so it's drawing significant attention.
Analysis of the draft is everywhere, but to get a true gauge on the nature of the draft, it's useful to look at an effective analogy as to its unpredictability. This is from the National Basketball Association and is relevant in the context of drafting for need or drafting the best available player.
In 1984, the Houston Rockets drafting Hakeem Olajuwon the year after they drafted Ralph Sampson made sense because Olajuwon was too good to let slip away. The Rockets chose best available over need. Ironically, as The Last Dance showed, teams will also make mistakes based on need vs. a misjudging of talent as the Portland Trail Blazers drafted Sam Bowie right after the Rockets took Olajuwon because they didn't need a shooting guard (the best available was Michael Jordan) since they had Clyde Drexler. The same Drexler about whom Jordan took offense when he was compared to him as the Trail Blazers and Chicago Bulls were set to meet in the NBA Finals. The Rockets, had they adhered to a theory saying they wanted to draft on need, would have selected Jordan. Would Sampson/Jordan have been a championship combination? Would Olajuwon have become the all-time great he was and crafted dynasty with Drexler in Portland?
To further complicate this "what if?" labyrinth, 11 years later, Drexler won an NBA title…with the Rockets…and Olajuwon after he was traded to Houston is a desperate – and successful – attempt to defend their NBA title.
The Rockets taking the best guy on the board even though they had a guy who played his position; the Trail Blazers drafting Bowie because they had Drexler and didn't "need" Jordan; and the Bulls getting eternally lucky essentially encapsulates the reality of any draft whether it's baseball, basketball, football or hockey.
The only reason this question of need vs. talent is even being asked related to the recent MLB Draft is that it was repeatedly referenced regarding – who else? – the New York Mets. Not only are the Mets frequent and often justified targets of criticism, but members of the media who cover them have nuggets planted in their ears or come up with it on their own "hook" to push stories about the draft even if it makes no sense at all.
After the Mets drafted high school outfielder Pete Crow-Armstrong 19th overall, tweets from writers who cover the club were as follows:
Outfield is the club's weakest position. None of the Mets top 15 prospects are outfielders, and their No. 1 outfield prospect is 17-year-old Alexander Ramirez, who has yet to play his first pro game.

Scouts say Crow-Armstrong could be playing in the big-leagues right now.

— Deesha (@DeeshaThosar) June 11, 2020
All teams say they never draft for need, but outfield was a clear need in the Mets organization. Whether coincidence or not, it makes a lot of sense for them.

— Anthony DiComo (@AnthonyDiComo) June 11, 2020
"Scouts say Armstrong could be playing in the big leagues right now."
Right. At 18, he could be playing in the big leagues right now. Think about it. Think about how that never, ever happens. Then think about the hyperbole and how asinine it is.
It's this level of categorical nonsense that renders all analysis – even that which is retrospectively accurate – ridiculous. These preposterous statements attributed to invisible "scouts" whose name won't be attached to it since it might get them fired if any powers-that-be in an organization knew who said it happen every year with approximately every one of the first 100 players selected in the first round.
As DiComo later tweeted, teams do not draft based on need. Still, it may be beneficial to consider the concept of drafting for need vs. drafting the best available player. And there's greater nuance with the dueling theories than conventional wisdom suggests.
For big time sports in which amateur players are acquired via the draft, MLB and the NHL have minor league systems to develop them before moving them up.
The NFL and the NBA draft players demanding that they reach the highest level immediately and contribute.
That does not mean outliers from each. The NBA and NFL might pick a guy with talent who they want to develop. The NHL and MLB might pick a player who can help soon, but not immediately.
In hockey, it is relatively common for the prodigy-type player to be drafted first or second overall at 18 and go straight to the NHL. It occurs in baseball, but it's only for the polished college player who starred at a major program where the competition was comparable to what he would have faced in the minors. It does not happen with an 18-year-old high-schooler no matter how touted he is.
To imply that teams never draft for immediate need ignores certain cases. Prior to their gutting rebuild, the Chicago White Sox were known for drafting players who they wanted in the big leagues fast. That includes Chris Sale, Gordon Beckham and Carlos Rodon, all of whom were in the majors within a year of being drafted. The Cincinnati Reds drafted Mike Leake eighth overall in 2009 and he was in their starting rotation in 2010 after playing in the Arizona Fall League, not the minors.
"Immediate need" is relative. There are circumstances in which a team should draft a player who is coming from a college program and whose skills and production indicate that he would help by the end of the season if not sooner. Players have cobbled together solid careers without spending any time in the minor leagues beforehand. Pete Incaviglia and Bob Horner come to mind. If it is for the right reasons, then it can work. The wrong reasons can be disastrous. The 1973 Texas Rangers were on the way to losing 105 games when they drafted David Clyde first overall out of high school in Houston. They caved to pressure and the need to sell tickets, bringing him straight to the majors at 18. Despite superstar talent, Clyde was finished at 24.
Drafting the best available athlete is safest decision and the easiest to explain. The two aspects are inextricably linked even if teams deny it. In years past, few outsiders had access to the information available today and if they wanted it, it took work to get it. Baseball was insular, scouts and front offices worked in relative obscurity, and they were not subject to outside assessments on blogs and instant reactions on social media complicating their lives. Now, everyone has statistics, video clips and scouting reports to bolster their own theories, delusional though they may be.
Sure, every generation, there's a Bryce Harper or a Stephen Strasburg sitting there at number one and there's no debate as to which player a team should take. With Strasburg and Harper, it was the Washington Nationals who were that fortunate back-to-back. Strasburg was a college player; Harper had played at junior college, but was 17. There was no ambiguity. Every team in baseball would have made those same two picks. Not every draft is that easy.
In 2004, Justin Verlander was taken second overall behind Matt Bush. In hindsight, it looks idiotic because in hindsight, it was idiotic. Back then, the San Diego Padres had reasons for doing what they did even though it did not work out.
Bush was taken first overall because he was from San Diego and owner John Moores did not want to pay what the Scott Boras clients would cost. Bush was talented and in hindsight, the pick was a mistake. However, any pick is an educated guess with talent, finances, need, analysis and a slew of other factors playing a role.
Had Bush turned into Derek Jeter instead of having personal problems that led to washing out with the Padres and a jail sentence for drunk driving, then it was a "prescient" pick and a selection that proves the "value of scouting and intuitiveness."
Eventually, Bush forged a career for himself with the Rangers after switching to the mound.
That unusual position switch does not often happen successfully, but it does happen and it is in direct correlation to the same athletic ability that got Bush drafted first overall as a shortstop.
That's just one example.
The draft is such a guessing game that teams could do just as well in drafting if they had a dartboard with the names of the top 30 players in the nation and threw a dart while blindfolded. If a club is in the middle of a gutting rebuilding project, it cannot justify drafting a player who is not considered the "best," whatever that means. It's another subjective decision with myriad factors involved. The team situation is determinative in whether there should be a draft for need or a drafting of the best available athlete. Teams that are in a full rebuild or are not serious contenders should not draft for need. For others, it may be a wise choice.