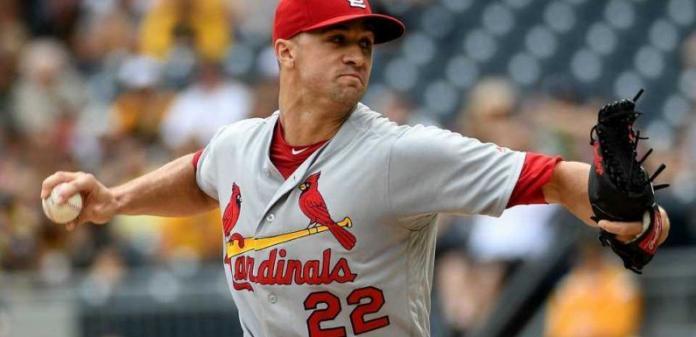 The immediate reaction to the St. Louis Cardinals' renewing Jack Flaherty's contract for the bare minimum they could under the collective bargaining agreement is that the team is behaving in a petty and cheap manner. It's the latest example of a club taking advantage of the rules to keep salaries as low as it can regardless of results.
The glaring nature of the act has drawn headlines and negative attention. Not only did they renew him for as little as possible, but they used an arbitrary, team-created system in which it reduces the player's salary by $10,000 if it is forced to renew his contract. As a "thank you for no longer beating me" conciliatory gesture, the Cardinals did not reduce his salary by that figure because he received a bonus – conveniently for that amount – for finishing fourth in the voting for the 2019 National League Cy Young Award.
Reportedly, Flaherty is set to receive $604,500. The technical sleight of hand in renewing him as they did is noteworthy in its apparent intent. It is not new. The contract renewal was only doable only because the system of player compensation allows for it in Major League Baseball.
The outrage over how Flaherty was treated and the rules that let it happen does not mimic the indentured servitude under which players performed before Curt Flood challenged the longstanding reserve clause by refusing to accept a trade saying he was not property to be moved against his will; before Catfish Hunter became the first free agent due to a contract technicality; and before Dave McNally and Andy Messersmith refused to sign contracts and were subsequently ruled by an arbitrator to be free agents serving as a precursor of what was to come. It is, however, a clear indicator of the inevitable labor strife for the upcoming CBA.
The players themselves allowed for this to happen. Arbitration eligibility does not come for three years; free agency for six. Young players were long subjected to the whims of baseball management and constrained by the rules that were ripe for exploitation. With the CBA set to expire at the end of 2021, labor strife appears unavoidable.
There was a certain naïveté in the players' position for the CBA in seeking minor concessions like extra days off for the All-Star break, easier travel schedules and other negligible perks while compromising their early-career earning power. They allowed owners endless room to hire whiz kids whose main skill is to find loopholes and maximize their ability to squeeze the most juice from a player's career at the cheapest price. This is how players were suddenly sent to the minors without sufficient justification simply to save an extra year of team control by sacrificing a couple of weeks of having them on the roster to start the season.
Kris Bryant's grievance for the Chicago Cubs demoting him after a spring training in which he batted .425 with 9 home runs was decided in the Cubs' favor, but the tidal wave is pushing the barrier to its limits. The wall will come down…or the owners will open it for their better interests.
Currently, the players remain at the mercy of the teams. With Flaherty and the Cardinals, the question as to whether this will doom the relationship is irrelevant. If he pitches well and remains healthy, the Cardinals will take care of him financially. They might make amends sooner than later by giving him a guaranteed contract through his arbitration years and first couple of years of free agency. The renewal does not necessarily mean that the relationship is destroyed beyond repair just as Flaherty refusing to sign it was not akin to a holdout. Jacob deGrom refused to sign his renewal contract with the New York Mets. It was a symbolic gesture that meant nothing. Eventually, the Mets paid him.
It is easily forgotten that the best and highest-paid player in the game, Mike Trout, was once angry with the Los Angeles Angels of Anaheim for renewing his 2013 contract for $510,000 the year after he won the Rookie of the Year, was runner-up for the Most Valuable Player Award, won a Silver Slugger and was an All-Star being compared favorably to Mickey Mantle – all at age 20. The sides buried the hatchet and the Angels opened the vault. Trout is set to spend the rest of his career in Anaheim, working under a $426.5 million contract through 2030.
The perception that the Cardinals are bullying the young player under the pretense of organizational policy masks the reality that every team tries to manipulate their finances and the salaries of young players as much as possible. Some are more ruthless about it than others as the Cubs were with Bryant. With the CBA in flux, teams are also in a rush to sign their young players to long-term contract extensions before they need to. The Chicago White Sox have been aggressive toward this end with Yoan Moncada, Eloy Jimenez and Luis Robert. The Atlanta Braves signed Ozzie Albies to a 7-year, $35 million that was decried for how much he supposedly shortchanged himself.
It's typical that agents criticize competitors' deals. But I've now heard from executives, players, analytics people, development side and scouts who are saying the same thing: The Ozzie Albies extension might be the worst contract ever for a player. And this is not hyperbole.

— Jeff Passan (@JeffPassan) April 11, 2019
Are there solutions to this problem? It is impossible to tell a team that it cannot demote a player when it has a right to do so. The club does not need a reason to do it. Still, baseball has always been a sport where statistics are used to judge players. They are a fundamental way in which players are paid, especially in the arbitration process and, increasingly, during free agency. Since this is the case, perhaps a statistical formula could be used to determine a player's rights to earlier arbitration and free agency.
Flaherty, for example, could parlay his 2019 season into having an automatic statistical kicker (formula to be determined by people who create such things) that will shave a commensurate number of years off his team control because of that performance.
What are teams going to do? Tell the player to play worse? Send him down because he's been too good at the highest level in the game?
Teams are not reluctant to use statistics of all kinds to determine how a player should be valued, so why shouldn't the player benefit from those metrics to get closer to big money by playing well long before he would otherwise capitalize on it to the maximum?
This is just one example that would likely be more agreeable to the owners than simply giving the players arbitration earlier than they get it now while doing nothing other than accruing the necessary service time independent of how he plays.
Player anger at this treatment is cosmetic and a means to an end. They know what the owners are doing and can do nothing about it but hope for a better agreement once the new CBA is completed. That agreement will undoubtedly focus on service time calculation and manipulation, arbitration-eligibility and how long before players can become free agents.
A sticking point is how younger players are at teams' mercy in their formative years in the majors. Under the current system, the teams can look at the players, shrug, and ask, "What are you gonna do about it?" The answer is nothing…until the next CBA negotiation, when they have the chance to do something to address these issues and close loopholes they left open wide enough for several armored cars, loaded with cash.