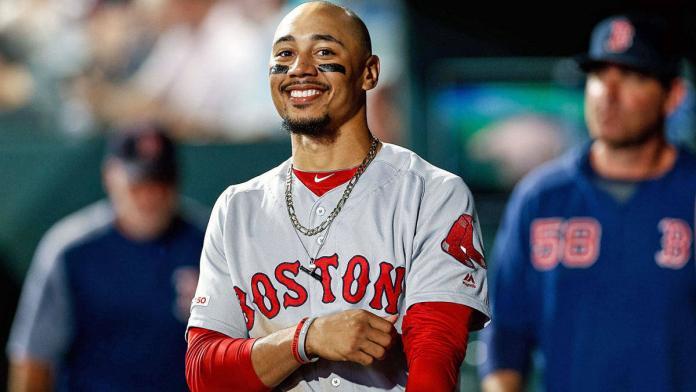 The mediocrity of the DC Universe (not just in comparison to Marvel, but in general) has led to re-imagined origin stories, standalone films and assertions of Bigfoot-like sightings of film cuts that are drastically different and better than the convoluted dreck that was released to theaters. Usually, it takes some time for the reboot to come about, but in Major League Baseball and the Mookie Betts trade, it happened in a matter of days.
A previous post assessed the original deal from the perspectives of the three teams involved. They get to reboot, we get to reboot. Is it better or is it worse?
Let's see…
Boston Red Sox
The Red Sox will deny it, but it's possible that the viscerally negative reaction to the return on the original trade – Alex Verdugo, Brusdar Graterol and major salary relief – caused them to think twice about okaying it. Conspiracy theorists can suggest that the Red Sox used Graterol's injury history to raise red flags about his medicals and either extract more from the Los Angeles Dodgers or Minnesota Twins or back out of the trade entirely.
This is an inherent problem with trades being reported before they are official. Even if teams say they're not impacted in any way by the public reaction, they could fall prey to seeds of doubt. This is especially true for the non-baseball people in positions of power – namely the owners. John Henry is intimately involved in the Red Sox baseball operations and is already getting figuratively hammered for slashing payroll. Trading Betts and David Price for a lambasted return takes significant fortitude and they need to believe in their baseball operations people to pull the trigger on it.
Chaim Bloom does not appear to have the same power his predecessor Dave Dombrowski was granted. Dombrowski essentially had a stamp of approval to win a World Series by any means necessary, which he did. Bloom is working under constraints and more complex mandates. Henry wants to get the bloated payroll under control, rebuild the farm system and get back to the 2004 model rather than the 2007, 2013 and specifically, the 2018 model.
Are they to be blamed for that?
Red Sox fans and the Boston-based media have gotten greedy. As much as they hate to hear this, they are comparable in behavior and demands to their nemesis, the New York Yankees, in thinking every year without a World Series win is a failure. It was a natural progression amid their success and that success comes with a cost. They're trying to restrain that cost.
Acquiring Verdugo, minor-league infielder Jeter Downs and catching prospect Connor Wong appears, on the surface, to be a better deal than getting Verdugo and Graterol. It's easy to scour the web for random and subjective analysis for young players the overwhelming majority have never seen play. Much of it is regurgitated information. Suffice it to say that the Dodgers are good at scouting and drafting and Bloom knows what he got. The Red Sox trading for a player named after Derek Jeter is funny and ironic on its own.
Just as before, the Red Sox are punting 2020. After 2020, they can pursue Betts as a free agent, will have these prospects, and be free of half of Price's contract. That's pretty good.
Minnesota Twins
True, they're basically getting Maeda free of financial cost since the Dodgers are sending $10 million and he's owed $12 million through 2023. However, they are giving up Graterol who, despite his ideal role being in question and his health being scrutinized, was still their top pitching prospect with a 100-mph fastball. The competitive balance draft pick they're sending to the Dodgers also has value.
The only reasonable conclusion is that they're enamored of Maeda. While he's versatile, reliable and solid, is he worth all that? On paper, the answer is no.
Los Angeles Dodgers
They're officially getting Betts and taking Price as a conciliatory gesture to reduce the price on their primary target. The Dodgers taking Graterol and Price ties into their overall philosophy – one that has been remarkably effective for them under Andrew Friedman. They know how to exchange dollars for value and it's not simply about paying players.
The medical records issue is a no-win situation for anyone. If Graterol gets hurt, the Red Sox look smart and the Dodgers look dumb. If he is healthy and effective, it's vice versa. Like anything else, medical opinions will vary. The Red Sox doctors obviously had concerns and the Dodgers were willing to take the risk. That the Dodgers are planning to use Graterol in the bullpen is a marked contrast and might have been the tipping point to complete the deal with him going to Los Angeles instead of Boston.
The Dodgers use their starters for limited innings and pitches, relying heavily on the bullpen. Traditional roles are largely irrelevant for them. The Red Sox still have the relatively traditional starter-reliever blueprint. Grateral as a reliever has more value to the Dodgers than he would for the Red Sox, especially when the Red Sox are trading one of the five best players in baseball to get him.
The planned trade of Joc Pederson and Ross Stripling to the Los Angeles Angels of Anaheim as a next move fell through, but that is unimportant. From the Twins, they exchanged Maeda and most of his contract for Graterol and Luke Raley, who was originally a Dodgers farmhand and had been traded to the Twins to get Brian Dozier. Clearly, they like him. They also get the 67th overall pick in the 2020 MLB draft.
It's a great haul in exchange for nonessential personnel.