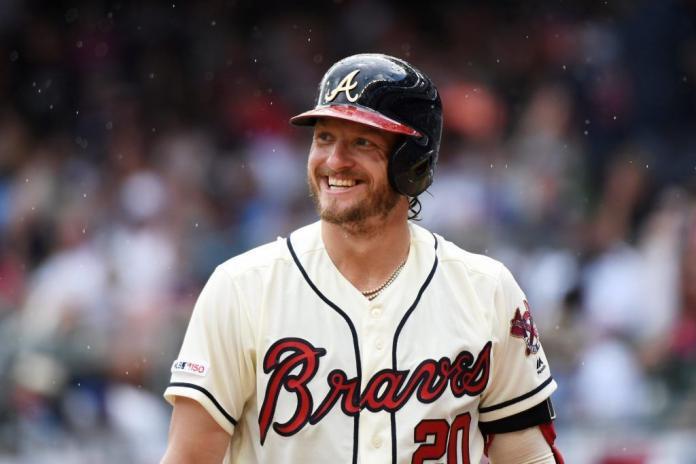 Free agent third baseman Josh Donaldson is sifting through offers with the increasing likelihood that he will get the four-year contract he seeks. It is being reported that he already has several deals of that duration in hand. It seems certain that Donaldson will sign with a contending team and get the money and years he's asking for. Still, there is a risk with signing a player who recently turned 34 for multiple years and nine figures while expecting him to maintain his high-end production through age 38.
Were he five years younger, Donaldson would have received a similar deal to the free agent contract Anthony Rendon got from the Los Angeles Angels of Anaheim (7-years, $245 million) or what Nolan Arenado received in his contract extension with the Colorado Rockies (8-years, $260 million).
But he's not.
He's 34. The days of teams giving massive long-term contracts to players who are 32 and older, for the moment, are gone. Players and agents understand this and have adapted accordingly. No longer are players who have reached the perceived physical peak and are on the way down receiving that last contract taking them to age 40-plus. Albert Pujols, Miguel Cabrera, Joey Votto and Robinson Cano are case studies as to why that is the case.
The "happy medium" seems to be paying the player based on his accomplishments while maintaining some level of sanity. That sunk contract for a player who is 36 to 40 is being avoided, if possible.
Half the teams in baseball could use Donaldson. The New York Mets, for example, would absolutely benefit from installing Donaldson in the middle of their batting order, having his superlative defense at third base, and by keeping him away from his 2019 club, the Atlanta Braves, and one of his prime suitors, the Washington Nationals. But they don't need him. Jeff McNeil can handle third base; if J.D. Davis advances from terrible to slightly below average at the position, he deserves a spot too; they have yet to find a taker for Jed Lowrie's contract. When adding in their pending free agents in the next two years – Marcus Stroman, Noah Syndergaard, Steven Matz and Michael Conforto – the idea of Donaldson makes less sense. They can't let them all walk and Donaldson's contract added to Cano's would be problematic.
Other clubs like the New York Yankees and St. Louis Cardinals are in a comparable circumstance.
It's clear by now the cost-conscious Braves will not go beyond certain limits to retain Donaldson. The Nationals have the biggest need for him as a replacement for Rendon as they try to defend their World Series title. The Minnesota Twins have sought upgrades, been largely shut out, and apparently offered Donaldson four years. Incumbent third baseman Miguel Sano is a defensive liability and Donaldson is a veteran winner to add to their playoff-hardened veterans Nelson Cruz and Marwin Gonzalez.
The Texas Rangers were in on Rendon, have considered Todd Frazier as a fallback, are going for it with their trade for Corey Kluber, and in 2019 had a patchwork third base plan with Asdrubal Cabrera and Logan Forsythe. Their top prospect, Josh Jung, is a third baseman, but even if he's fast-tracked, that would be two or so years into Donaldson's contract. They need an on and off-field replacement for Adrian Beltre, whose presence was sorely missed after his 2018 retirement.
The Philadelphia Phillies have been linked to Bryant and new manager Joe Girardi likes the Donaldson-type of player who'll police the clubhouse and play in the old-school fashion he prefers.
The Los Angeles Dodgers met with Rendon making L.A. a potential landing spot for Donaldson. Their financial might, reluctance to trade their best prospects for Arenado, the unknown surrounding Kris Bryant as he and the Chicago Cubs address his grievance for being sent to the minors to start his rookie season, the club's willingness to have players who are seemingly redundant and move them all around the field, their history of paying players like Rich Hill big money at an advanced age, that their clubhouse needs a jolt, and the restlessness over their lack of moves this offseason opens the possibility that they might make a play for Donaldson.
Even with the market in this shape and Donaldson's attributes, the $90 million-plus price tag is concerning for teams that can afford it or have the wiggle room to move enough money after the signing.
The ideal fit for Donaldson and the signing club is a team that is either on the precipice of being a title contender and needs the on and off-field qualities Donaldson brings, or a team that is trying to put the finishing touches on their championship-caliber roster.
After missing close to a third of the 2017 season and an injury-plagued 2018 notwithstanding, Donaldson has been durable. Those injuries to his calf and shoulder did not impact him for 2019 when he posted a .900 OPS and hit 37 home runs for the National League East champion Braves. However, with any veteran player who was essentially singing for his supper on a one-year deal at age 33, paying him off that year carries inherent concerns. The days of players that age and older who maintained their production or experienced a renaissance ended with the crackdown on PEDs and amphetamines. Age cannot be denied and mitigated anymore.
Donaldson will get paid. He'll play well for the first two years of the contract. Then, his team could be on the hook for a decline that has become commonplace for older players. As it currently stands, the one spot for which it makes the most sense for Donaldson and the club is the Nationals. The others have options. The Nationals don't.