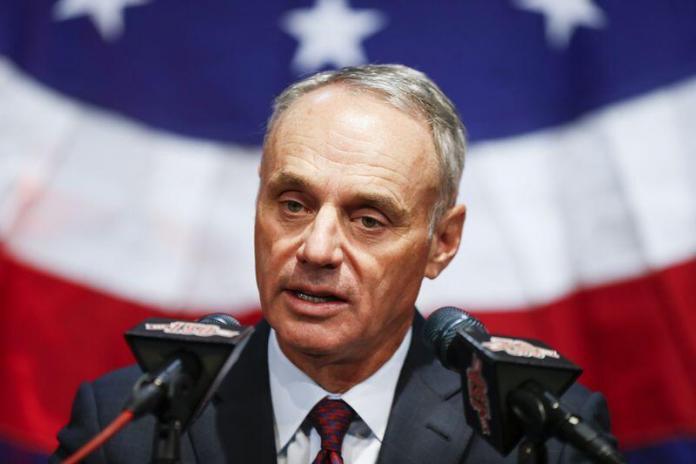 A concern about a worldwide crisis like COVID-19 is that individuals and entities will use it as a distraction and a means to enact measures they wanted to implement but could not because of protest and interference. Often, this is viewed in the context of politics with governments using the panic to take away citizens' rights in the "interest of public safety". For private industries, there are also tactics to put into practice strategies portrayed as sinister and take advantage of the distraction.
The focus on minor league salaries and baseball's attempt to eliminate up to 42 minor league teams has evolved into another goal clubs have long had: cutting the draft from its current total of 40 rounds to five in 2020 and to just 20 in 2021.
The linked article about the proposed contraction mentions Mike Piazza as a 62nd round pick in the romantic tone of an unknown getting a shot and reaching the Hall of Fame. However, it conveniently omits the fact that he was only given that shot because his father Vince was close friends with Los Angeles Dodgers manager Tommy Lasorda and the Piazzas were wealthy enough so Mike could take his shot and not worry about getting a job.
As difficult to swallow as drastic changes such as these may be, it is not done randomly and without reason simply to save money. It is done because many of the minor-league players are superfluous and the draft is a multi-day extravaganza not because it is necessary, but because it draws attention. In a vacuum, sans ancillary interest, the elimination of minor league teams and cutting of the draft would not elicit a ripple of attention. It would be done in the name of efficiency.
Despite random stories of players who were drafted beyond the 10th round making it to the majors and becoming prominent and even reaching stardom (think Albert Pujols, 13th round, 1999), the reality is that it's akin to going for a walk and finding a bag of untraceable money under a bush. It could happen, but 99.99999999 times out of a 100, it doesn't.
Sure, it's easy to point to Jacob deGrom now that he's got back-to-back Cy Young Awards and is widely viewed as the best pitcher in baseball. A ninth-round draft pick who made it is an easy story to tell in the "you never know" way. The real story is that in college, deGrom was an infielder who rarely pitched. He had a tremendous arm and was told the only way he'd even get a shot as a professional was as a pitcher. He subsequently needed Tommy John surgery. The Boston Red Sox asked for him when the Mets traded for Kelly Shoppach in 2012 and general manager Sandy Alderson needed to ask his scouts who deGrom was before saying no. He was a few days shy of turning 26 when he made his MLB debut in May 2014. That's ancient for a rookie. He was pigeonholed as a fringe reliever and was not expected to have a role. He grabbed his opportunity because his stuff seemed to improve once he was in a big-league ballpark. Now, he's a superstar.
It was luck. That same level of freakish luck could have happened if he was signed as an amateur free agent.
There's inevitable hindsight and "we shoulda known" from lower-round picks or amateur free agents who became stars, but there's no way of knowing that would have happened. Teams waste an untold number of picks on legacies as favors to a father who produced for them, guys who might have some level of ability based on performance, or have some attribute – a good arm, foot-speed, size – that warrants drafting them with the organization not caring whether the player signs or not.
Is it cold to tell a 20-something who is in the top level of A-ball who complains that he cannot try to fulfill his dream while earning a pittance and supporting his wife and two kids that there's no reason to pay him more?
Maybe.
Is it justifiable?
Yes.
Nobody is forcing this 20-something to cling to a dream at the expense of providing for his family. Barring a sudden growth spurt, the discovery of a hitting style that vaults him over his contemporaries, an arm that receives an unexpected jolt increasing a fastball velocity from 93 to 98, a scuffball, a trick pitch or an undetectable performance-enhancing drug, that player is an "organizational" guy meaning he's roster filler; meaning he's there so the real prospects have someone to play against. He's replaceable and disposable.
"I can't live on this and support my family." Well, maybe then it's time to go to the real world and get a job.
This is not a cruel assessment. It's telling someone a truth they do not want to hear, but might need to. That need could be served by the slashing of minor-league clubs and the reduction in draft rounds.
Looking up and down any minor-league roster from the past or present, how many players have a chance to make it to the majors and stick? Probably three. Rest assured, the overwhelming majority who do make it are high-round draft picks or amateurs from Latin America in whom teams have invested significant dollars.
The narratives presented by the media, players and the towns who would stand to lose if the widespread contraction were to take place obscures the facts about most minor-league players:
They are not going to make it to the majors
They are not good enough to make it to the majors
They are only professionals to give the legitimate prospects opponents against whom they can hone their skills
Teams will find someone cheaper who can do exactly what they can do and serves the function of "opponent" like a tomato can whose role is to take a beating from a rising boxer
As noble as it is to gamble and hope to achieve one's dream, it is not MLB's responsibility to finance said dream for a person who has literally zero chance of achieving it. Most might as well hold out hope of becoming an astronaut and being the first person to walk on Mars – theoretically possible, not going to happen.
Is a part of that "zero chance" due to a lack of opportunity? Yes.
Is it more than a minuscule factor? No.
Teams invest in the top-tier talents in the draft and on the amateur market from Latin America because those players have the tools teams are looking for and they are a wise investment. If the players are placed on fully equal footing with each getting the same amount then there is a greater likelihood for players who were signed or drafted as filler to rise to the top. Of course, a player who has a $4 million signing bonus attached to him will get a longer leash not just because of his prospective abilities, but because the team does not want to acknowledge that it wasted that money. GMs and their staff certainly do not want to go to ownership and say that money was spent on a first or second-rounder who turns out to be a bust since it could cost them their jobs.
Advocates for advanced statistics and the supposed objective analysis it provides are quick to discard fundamental realities that do not suit their aesthetic. The "beauty" and "innocence" of the game evident in the minors is frequently referenced. However, when those advanced numbers show that many minor-league affiliates can be consolidated to save money because most of the players on those rosters do not have the requisite ability to play at the sport's highest level, it is cast aside not because of objectivity, but because of sentiment.
The teams are important to the small towns in which they are housed; there are unexpected success stories made for Hollywood; and there is an underlying innocence about minor-league baseball. None of this is connected to unwelcome truths.
The slashing of the number of rounds in the draft is also categorized as a hollowing out of the minor-league system, the dashing of amateurs' Major League hopes, and the relegation of players who might have been selected in later rounds to scrounging for an opportunity. But there is no actual need for the draft to be more than, say, 10 rounds.
It's easy to forget how the farm systems came into existence in the first place. Branch Rickey quietly began purchasing teams to have control over what they taught, how they taught it and, most importantly, to have access to the players all to himself and not be subject to the bidding wars that commenced for players from independent minor-league clubs. The 1950 St. Louis Cardinals had 21 (twenty-one) minor-league affiliates. That was just a random search for one team. The 1955 Brooklyn Dodgers had 15; the 1957 Milwaukee Braves had 15 – teams swallowed up minor-league teams for volume and as a business decision. This was before freedom of movement for big league players, tied to their clubs by the reserve clause. It was also before the draft. Fewer jobs were open then because teams held onto their stars, discarding them only when they felt they had outlived their usefulness. Bonus babies were the real free agents.
In the 1920s, Rickey put the system in place for several reasons, the most important being that the Cardinals did not have the money to pay premium for players they liked; Rickey's keen eye for talent was well-known and he was outbid once wealthier teams became aware of his interest in a player; and he wanted control to account for his lack of funds and to save money. Buying up minor-league teams was an outlay to save money later, and it worked, laying the foundation for five pennants and three World Series wins from 1926 to 1934 and to build one of the most famous teams in history, 1934's "Gashouse Gang".
Even when MLB organizations concede that minor leaguers are insufficiently compensated and raise their salaries, they will take steps to adhere to their bottom line in other ways whether that is eliminating minor league affiliates or finding a financial sleight of hand to ensure it doesn't cost them in any notable way. It's done to quiet the masses who react to a story in the immediate and then forget about it with another cause about which to be outraged.
If anything, the elimination of so many minor league affiliates could create a boon for independent teams and benefit players who would otherwise be on a roster, but not get a chance to play; who would have no choice as to where they would sign to having a choice as to where they would sign; and to have the opportunity to get more money than they would if a big league franchise takes an interest because they will have a body of work as a professional and perhaps get an opportunity that would not get if the system remained intact.
This will not benefit the faceless "some guy" who doesn't have the ability to make it to the big leagues but is deluding himself and wants more undeserved funding to reach that unreachable star, but it will help the player who has legitimate talent but got lost in the crowd.