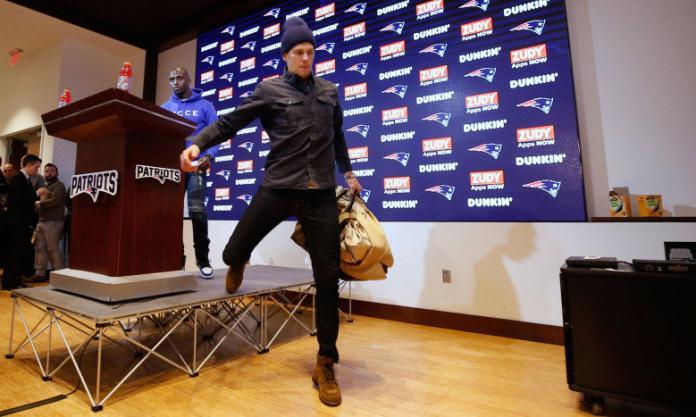 All along, it seemed like a negotiating ploy. The idea of Tom Brady wearing a helmet and jersey other than that of the New England Patriots was as foreign as seeing any team's iconic star leaving in a fit of pique, in search of money or as part of a search for respect that he mistakenly believes eluded him. The sides eventually coming together in a mutually advantageous deal seemed a foregone conclusion.
Except that the Patriots, under Bill Belichick, are not like other organizations that are chained to the past even for the greatest player in its history if not the history of the NFL.
Despite the different manner of business in the NFL and that historic luminaries Johnny Unitas, Joe Montana, Brett Favre, Joe Namath, Emmitt Smith and countless others have desperately clung to their playing lives by refusing to walk away – with up and down results – it still comes as a shock to imagine Brady as anything other than a Patriot.
Still, pigeonholing Brady ignores how he got to this position in the first place. The oft-told story of how he was overlooked as a college player and fell to the sixth round of the 2000 NFL Draft may be boring by now, but that he worked his way from irrelevance to being arguably the greatest quarterback in the history of the sport speaks to his stubbornness. That same stubbornness may have led to his departure from the Patriots.
Is he seeking something different? Did he want to finally be paid commensurately with his accomplishments after years of taking down-the-line salaries and leaving untold millions on the table so the rest of the roster could be filled with players to help him achieve the one main goal he and Belichick shared: winning the Super Bowl?
Was there ego involved where Brady would like to try and win without Belichick and shed the muted but lingering perception that as great as he is, other quarterbacks could also have won under Belichick and Josh McDaniels?
Technically, Brady broke up with the Patriots before they broke up with him. But it's obvious the organization was indifferent or even went so far as to be uninterested in bringing him back. Whoever they get to replace him will be someone with whom Belichick thinks he can win a Super Bowl. That could be Andy Dalton, Cam Newton, 2019 Patriots backup Jarrett Stidham or someone else.
The egos here are not to be dismissed, though. Both Belichick and Brady have theirs and managed to coexist and thrive without those egos encroaching on each another and smothering the relationship. That was based on winning Super Bowls. If Belichick felt his best chance at winning another Super Bowl or more hinged on keeping Brady as his quarterback, then Brady would remain his quarterback.
There's no question that Brady is finally, at age 42, showing the signs of age that he staved off for so long. He is essentially immobile. In 2019, his completion percentage, total yards, QB rate and touchdown passes were the lowest they have been since 2013. The difference between then and now is that he was 36 then and will be 43 when the 2020 season starts. How much longer can he play at a reasonably high level?
This could be categorized as a financial decision, but the financial parameters they placed on what they were set to pay Brady were bracketed by what he's able to do on the field. Belichick deviated from his usual "thank you for your service" goodbye he generally gave to players when he issued a long statement expressing his admiration and love for Brady, but rest assured that if he felt 2020 Brady was still the same player he's been for much of his two decades in New England, the Patriots would have re-signed him.
Thinking that Belichick has it in his mind to "prove" that he can win without Brady to somehow validate his coaching career is preposterous. His focus is on the team and the next game. Whether Brady, Dalton or whomever is his quarterback to achieve his goal is meaningless to him.
Belichick shows no sentimentality; no clinging to the past with concern as to how any move he makes will be perceived. This has been evident going back as far as the second year after the Patriots won their first Super Bowl with Brady and he cut Lawyer Milloy, causing a near mutiny in the locker room followed by a 31-0 opening game loss to Milloy's new team, the Buffalo Bills, quarterbacked by Drew Bledsoe. Falling to 0-1 after a disappointing 2002 Super Bowl hangover season of 9-7 was beginning to make the 2001 title run look like a fluke. Belichick was showing the same dour and uncompromising personality traits as the guy he was when he got himself run out of Cleveland and was fired as Browns coach. He was on his way to repeating the trick in New England.
That Patriots team subsequently won 17 of its next 18 games and a second Super Bowl in three years. Suddenly, Belichick and Brady were in the early stages of their upward trajectory into history.
The cutting of Milloy and cutting, trading or allowed departures of key components of their Super Bowl titles included Mike Vrabel, Richard Seymour, Deion Branch, Wes Welker, Logan Mankins, Danny Amendola and countless others. Belichick discards a player a year too early instead of a year too late. Many coaches and executives talk about implementing such coldblooded tactics, but few follow through on their own or are granted the freedom from ownership to do so.
Belichick is the rare entity who is legitimately in charge of basically the entire football operation with limited oversight and wide leeway from owner Bob Kraft. He's earned that with his constant winning. Specifically, he is not trying to validate his own greatness.
Is Brady? Even at his age and with his individual accomplishments and team hardware?
For a player whose work ethic stems from being ignored out of college and needing to fight for everything while playing for a coach so ruthless that he'd discard his star quarterback as soon as he showed signs of a decline, it's highly possible that Brady still has lingering doubts he'd like to exorcise.
While achieving that is definitely possible, what Brady may find is that any team he goes to will not have the same structure as the Patriots do. It might take him some time to get the locker room in line with the seriousness he expects and it could frustrate him that he no longer has the youth and ability to overcome what will – not might, will – be lacking from what he's had with Belichick for 20 years.
Of the two, the one with the most to lose here is Brady. He'll get his money, but he might tarnish his legacy and prove the point of his detractors – inaccurate though it may be – that Belichick was the key and Brady was not.