Defense wins championships. Can we all just go ahead and agree on that?
The Seahawks however won in every phase of the game. In one of the most complete victories I can remember having ever seen, the Super Bowl XLVIII champion played a complete and total team game and won this is a group. This game was an exhibition of flawlessness rarely seen by even the best teams of all time. Their Offense did their part, Special Teams played a strong role and the defense....well what other superlatives need to be said?
In reviewing this game there is one thing that comes back to me that really set the tone for the onslaught.
The opening kickoff.
That's where things went wrong for the Broncos. Many of you may think that I'm joking but if I were joking I would have said "when they got on the plane". In all seriousness though, I actually wrote in my notes "bad decision to bring out opening kickoff, field position could play a big role in this game". Now I can appreciate the fact that Denver kick returner, Trindon Holiday is just trying to make something happen and that he's a dangerous return man, but in the biggest game of the season, on the opening kickoff, returning a kick 6 yards deep in the end zone is a high risk move without too many good things that can happen.
No sooner had I laid down my pen when snap #1 of the game flies over the head of NFL MVP Peyton Manning. Now obviously sports are a lot of "if's" and "but's" and a ton of speculation, but I can't help but think that things may have been different had Denver been playing from their 20, rather than deep in their own territory at the 13. The world will never know.
Luckily for the Broncos it only resulted in a safety. That said, Seattle gets a huge shift of momentum plus the ensuing free kick would give them good field position. There's that term again. Field position.
It only went downhill from there.
While Denver's defense at times stepped up early holding a jittery Seahawk offense to only 2 field goals early, it wasn't long before Seattle proved themselves to be too fast, too strong and just flat out too good for the Broncos to matchup with as the Hawks only scored touchdowns the rest of the way. They're only the 2nd team to have a rushing touchdown, a passing touchdown, a kickoff returned for a touchdown and an interception returned for a touchdown. The only other team to accomplish this feat was the Baltimore Ravens in Super Bowl XXXV and from a historical defensive standpoint, that's a team that set the bar pretty high.
Malcolm Smith was named the Super Bowl MVP and deservedly so. The 3rd year linebacker and 7th round draft pick from USC not only led the team in tackles, but recovered a fumble AND returned a Manning interception 69 yards for a touchdown that in my opinion was the back breaker as it put the Seahawks up 22-0 just before the half, Denver's largest deficit all season and the only time they were shutout in a half.
Smith is only the third linebacker to win Super Bowl MVP honors, joining Dallas Cowboy Chuck Howley in Super Bowl V (still the only recipient in a losing cause) and Ray Lewis from the aforementioned SB XXXV champion Baltimore Ravens. That's some pretty good company. Smith also was the first player in Super Bowl history to record a fumble recovery and return an interception for a touchdown in the same game. Smith who was recruited by Head Coach Pete Carroll at USC, typifies what this team is about. "I always imagined myself making great plays" said Smith in the post game "Never thought about being the MVP".
If the the INT return by Smith at the end of the 1st half wasn't the back breaker, the opening kick of the 2nd half certainly was as Percy Harvin, playing in only his 3rd game all season, returned a popped up kick 87 yards to the house to turn the dagger just a little bit in the hearts of the Broncos. My note at that time read "O-V-E-R".
The Seahawks never relented and justified being part of the "best defense ever" discussion, right up there with the 1985 Bears and the 2000 Ravens who both also were the victors of blowout Super Bowl wins.
From the Broncos standpoint, they now fall to 2-5 in Super Bowls while Peyton Manning personally falls to 11-12 in the post season, becoming the all time leader in post season losses for a QB, passing Brett Farve in that category.
Manning who set records this season for most passing yards and passing TD's in a season, completed 34 passes (a SB record) on 49 attempts for 280 yards and 1 garbage time touchdown ended the game with a 24.4 total QBR was his lowest in a game this season and the worst in a Super Bowl since Rex Grossman's 2006 output of 7.1 against Manning's Colts.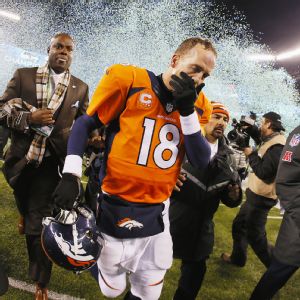 Coming into this game many discussed what this game could do for Manning's legacy and while most believe that it's been solidified for years already, questions will always come up about his big game ability. The fault in this game does not completely fall on his shoulders (Seattle had a lot to do with the outcome as well), however due to his 3 turnovers in this game (as predicted by one writer) those questions are legitimized. While he does have 1 Super Bowl title to his credit, that really only puts him a notch above Dan Marino.
Had Manning and the Broncos won this game, between his 5 MVP's, a 2nd Super Bowl win, a Super Bowl MVP and all of his regular season accomplishments, the discussion would be over and the "greatest QB of all time" tag would arguably be his. But alas, tonight was not his night and at age 37, the clock is ticking.
Conversely, for Seahawks signal caller, Russell Wilson, the future couldn't be brighter. At 25 years old and only in his second season in the the NFL, he is now a Super Bowl champion. Wilson finished the game a very efficient 18/25 with 2 TD's plus added on an additional 26 yards rushing on 3 attempts. Not exactly stunning numbers, but still highly efficient ones. The biggest and most important number he put up was ZERO, as in turnovers. While other QB's put up big numbers, Wilson just puts up W's.
Still playing on his rookie contract, the 3rd round pick is set to receive around $800k and change next season. While the Seahawks certainly would like to wrap him up long term, they're in no rush to do so. Because of the league salary cap and more importantly, the rookie caps, they don't have to. Now that's not to say he won't be hitting the jackpot soon, he most certainly will, for the Seahawks to have long term success and keep the band together, so to speak, they will need to follow the structure that the league allows.
It's not easy to repeat in NFL and nobody can tell what can happen from year to year but the Seahawks are poised to be contenders for years to come. They are the 2nd youngest team in the NFL and the second youngest ever to play in the Super Bowl. Wilson will only get better as he gains experience and so will the talent around him. It's not hard to imagine that even better things are in store for them in their future.
Scary thought for the rest of the NFL.
images courtesy of Getty Images/Stats courtesy of Elias