We are almost 24 hours away from the start of the 2014 NFL Draft. Below is your complete guide to the Chicago Bears: Their current situation, their needs, and what to expect when the clock starts counting down on the Houston Texans' first pick. To get us started, here is the list of the Bears' current picks and when you can expect them to be made:
Round

Pick Number

(Rd/Overall)

Estimated Time of Pick (CST)

1

14

8:50 - 9:10 pm

2

19 / 51

6:00 - 6:15 pm

3

18 / 82

10:45 - 11:15 pm

4

17 / 117

12:10 - 12:25 pm

5

16 / 156

2:45 - 3:00 pm

6

7 / 183

4:40 - 4:55 pm

6

15 / 191

7:50 - 8:15 pm

SEASON SUMMARY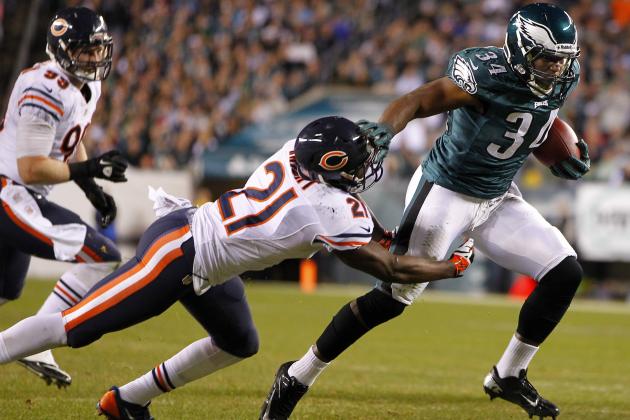 If you're a Chicago Bears fan, then you are well aware the this draft is likely to be all about defense. Last season the Bears were historically bad on defense - and not just franchise history, but NFL history as well. To be fair, things really unraveled when the injury bug struck some key players: Henry Melton and Nick Collins tore ACLs, DJ Williams suffered a torn pectoral muscle, Charles Tillman suffered numerous setbacks, and Lance Briggs was lost to a broken shoulder. That definitely explains much of the drop off in performance, but the inability of the remainder of the roster to keep things together eventually became laughable.
Some "highlights" from last season's Misadventure of the Midway:
32nd in Rushing Defense - 2,583 yards allowed (161.4 ypg). The Bears allowed 410 more yards than the 31st worst rush defense. By comparison, the difference between the 12th best rush defense and the 31st rush defense was 448 yards. The total rushing yards allowed is a franchise record.
In 16 games, the bears gave up 100 yards rushing 12 times, 150 yards 9 times, and 200 yards 4 times (not including games of 199 rushing yards against, and 198 rushing yards against).
In the 4 games where the Bears gave up less than 100 yards rushing, they gave up an average of 303 yards passing. (note: Chicago was 3-1 in those games, losing only to NO)
In the last 6 games of the season, the Bears allowed 1,244 rushing yards (207.3 ypg) on 184 carries, a YPC of 6.76.
Safeties Major Wright and Chris Conte finished 3rd to last and dead last, respectively, in Pro Football Focus' safety metrics.
The good news is that the offense has never been in better shape. Under the direction of offensive guru Marc Trestman, the Bears finished the season 8th in Total Offense, 5th in Passing Offense, 16th in Rushing Offense, and 2nd in the league in Scoring Offense - all despite losing starting QB Jay Cutler for for 5+ games.
This would be considered an incredibly successful season for any offense, but for the Bears it is grounds to nominate Trestman for sainthood. It's probably the most verifiable miracle to occur in our lifetime.
THE OFFSEASON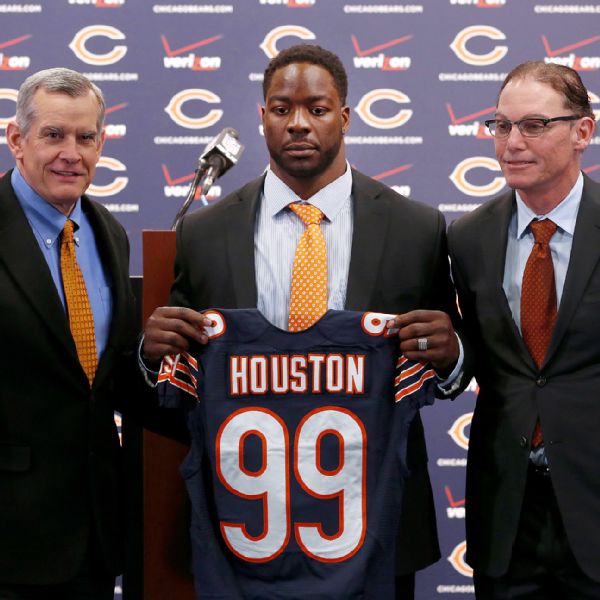 With one clear strength and two clear weaknesses, GM Phil Emery went about rebuilding the two units that were once the proud foundation of a perennial contender. To shore up the front seven, Emery brought in Pro-Bowl Defensive Ends Lamarr Houston and Jared Allen, along with DE Willie Young, who has played in 46 games the past three seasons. And to replace the departed Major Wright (now in Tampa Bay) and underachieving Chris Conte (now in limbo), Emery brought in former Packer, M.D. Jennings, and former Giant, Ryan Mundy. Coupled with the re-signing of MLB DJ Williams and DT Jeremiah Ratliff, there is reasonable expectation already that the defense will see a significant uptick in production next season.
TEAM NEEDS
1. Safety
As stated above, safety play by the bears was atrocious last year. Mundy should be able to come in and fill either safety spot, so Emery will have the luxury of taking the best player available and moving Mundy to whatever spot they don't play. Don't be surprised if Emery increases the competition and brings in a rookie at both FS and SS.
2. Defensive Tackle
The anti-DT crowd is quick to point out the many additions the Bears made to their D-Line. However, their top three signings were D-Ends, leaving a gaping hole at the 3-technique spot. Right now, Israel Idonije and J Ratliff would rotate at that spot, with Stephen Paea holding down the Nose. Look for Emery to grab a versatile DT if he is in a position to do so.
3. Cornerback
The signings of Tim Jennings and Peanut Tillman are great for this season, but both players are on the other side of 30. It's time to bring in a young CB to groom behind them. The good news is that the nickel slot is currently manned by oft-injured and well-traveled Kelvin Hayden, so the Bears could bring a young corner along slowly in nickel packages.
4. Middle Linebacker
DJ Williams is back, but he is hardly a game changer. Any attempt to play Jonathan Bostic at the MIke last year result in utter disaster, so his future likely resides at OLB. Williams is not only going to be 32 when the season starts, but he is also coming off of a nasty injury. Relying on him for more than this season would be a fool's errand, and Emery must be well aware that he must take another stab at filling this spot in one of these next two drafts.
5. Running Back
There is no question that Matt Forte is a workhorse, and he has been the Bears' MVP almost since the day he arrived. But there has been a gaping hole behind him at the RB2 spot for years now. Michael Bush was supposed to solve that problem, but he proved to be not very good at doing the things we were promised he would be good at doing. With his departure, the Bears are left with UFA Michael Ford and recent signee Shaun Draughn to fill the role of Forte's caddy. Im pretty confident in saying that Emery will find at least one more player to compete for that spot.
PHIL EMERY'S VISION
Despite being historically stoic about his draft plans in the past two years, Emery managed to give us jackals some morsels to nibble on during his most recent press conference. When trying to decipher which way the Bears will go this weekend (and if history is any indication, there is absolutely no way of knowing what Emery is thinking), here are some highlights to mull over:
EMERY: Every position is in play at #14 except for QB. Emery says he is content with Jordan Palmer as the #2. He also says that the idea of taking a QB in the later rounds is a waste of time. There hasn't been a quality developmental QB after the 3rd round since 2006.
Translation: Take Emery's word on it, and don't look for a QB to be taken in rounds 4-7. There are options in the 3d that may entice him, but even then, I wouldn't count on it.
EMERY: "I would say for that first pick, we're right at six. I'd be happy if two out of the six were on the board at our pick and I'd be ecstatic if three out of the six were on the board at our pick."
Translation: Emery covers all of his bases. You may be able to assume at least half of the six players he is looking at in the 1st, but knowing Emery, the other three are bound to be surprising. Regardless, this is a great sign and it means whoever we get will be someone the organization really wants.
EMERY: The Bears have received calls from other teams about moving out of the no. 14 spot to stockpile more picks.
Translation: Everything is on the table! If he can get good value, and add more picks, you have to know he will.
EMERY: "Trade-ups are expensive. You just have to feel like that player you're trading up for makes a dynamic difference in your team."
Translation: He's done it before, and it worked out amazingly (see: Jeffrey, Alshon). So it's quite reasonable to assume he'll do it again. My guess is that he won't pay the price to move up in the 1st, but he has his eye on someone in the early 2nd.
EMERY: He acknowledged that Aaron Donald is a popular pick for the Bears in numerous mock drafts, but he warns not to trust mocks. He clarifies by saying he wouldn't count on Donald even being available at 14.
Translation: Donald is most likely on the list of six players that Chicago is targeting in Round 1. But we shouldn't get our hopes up. The way Emery said that Donald might not be available makes it seem like he knows something. My guess is Donald goes in the 8-12 range.
EMERY: There is a fall-off from the top safeties to the next level of player.
Translation: If you couple that with the lack of a sure-fire starter on the current roster, it's fair to assume that the Bears will do whatever it takes to get one of the top safeties on their board.
EMERY: In regards to the 51st pick, Emery said, "We're going to take the best player that can help us win now."
Translation: The Bears will select the best player that can help them win now. C'mon, this isn't rocket science.
THREE ROUND MOCK DRAFT & POTENTIAL TARGETS
ROUND 1 - PICK 14: Emery says he has 6 players targeted for this spot. My guess is that Pittsburgh DT Aaron Donald and Alabama FS Ha-Ha Clinton-Dix are absolutely on that list. Donald is the elite 3-technique DT in this draft, and Clinton-Dix brings a combination of elite cover skills and physicality - both would be starters on Day 1. After that, heat-seeking missile FS Calvin Pryor from Louisville is probably on there, as well as uber-athletic Oklahoma St CB Justin Gilbert. The last two could be anyone. If CB is a priority, then Virginia Tech's Kyle Fuller and Michigan St.'s Darquez Dennard are candidates. But Emery has also said that "bigger is better," and coupled with his love for athletic freaks, Minnesota DT Ra'shade Hageman could also be a target. He would be a reach, but after two years of reaching we have to assume Emery doesn't care. And if Emery values him enough (and some do like him in the top-10) Alabama MLB CJ Mosely could be the wild card here.
Prediction: If he is there, Aaron Donald is an absolute no-brainer. He is a top-10 talent, an exceptional athlete, and a steal at 14.
ROUND 2 - PICK 51: As with any pick, alot depends on what the Bears do in the previous round. If they take a DT, then they must get a defensive back - preferably a safety. If they end up with a Safety, then both CB and DT are on the table. A combination of factors will dictate this pick, so any number of players are in play. At Safety, Washington St.'s Deone Buchannon and Northern Illinois' Jimmie Ward are late-First, early-Second round talents who could be available. At DT, Florida's Dominique Easley, South Carolina's Kelsey Quarles and Arizona St.'s Will Sutton would all be excellent fits in the Bear's 4-3. Easley is especially intriguing - before his knee injury, he displayed First Round talent and could be an absolute steal at this spot. But the possibilities are endless. Also in play are Cornerback's Bashaud Breeland of Clemson and Pierre Desire from Lindenwood, ILB Shayne Skov of Stanford, and even QBs Jimmy Garrapolo of Eastern Illinois or Tom Savage out of Pitt.
Prediction: I get the feeling the Emery wants Jimmie Ward very badly (and he should), and will make a move to trade up into the early 2nd to make sure he gets him.
ROUND 3 - PICK 82: Once the first two picks are in place, Emery can start checking off boxes. Assuming he fills the two most important needs, DT and S, with the first two picks, then the 3rd will be his opportunity to grab someone he really wants. The Cornerbacks at this point are a little more raw, but with starters already in place, a raw and physical corner who needs some time to develop would be a good fit. Florida's Marcus Roberson, Rice's Phillip Gaines, and Nebraska's Stanley Jean-Baptiste would be smart picks at this point. Jean-Baptiste would be especially intriguing, as he boasts elite size for a corner at 6'3, 218lbs. On the line, the best value would likely come from DE at this point, with players like Trent Murphy of Stanford and Ed Stinson of Alabama carrying the most value. MLB Yawin Smallwood out of Connecticut is a smart, undervalued prospect who could be the heir apparent to DJ Williams, and would be a good pick here. And if Emery is ready to fill the RB2 spot, there should be a plethora of options in the third that includes Auburn's Tre Mason, Arizona's Ka'deem Carey, LSU's Jeremy Hill, and Kent St.'s Dri Archer.
Prediction: I think Trestman loves the idea of giving different looks on offense, and he would love to have a Darren Sproles-like weapon to play with. Dri Archer looks the part, and he comes with freakish athletic skills. He ran the fastest 40 at the Combine (4.26), had a 38 inch vertical, while putting up 20 reps on the bench despite his slight 5'8, 174 lb frame. He could be electric for the Bears and make them the scariest offense in the league.